Coworking – How to Benefit From a Shared Office Space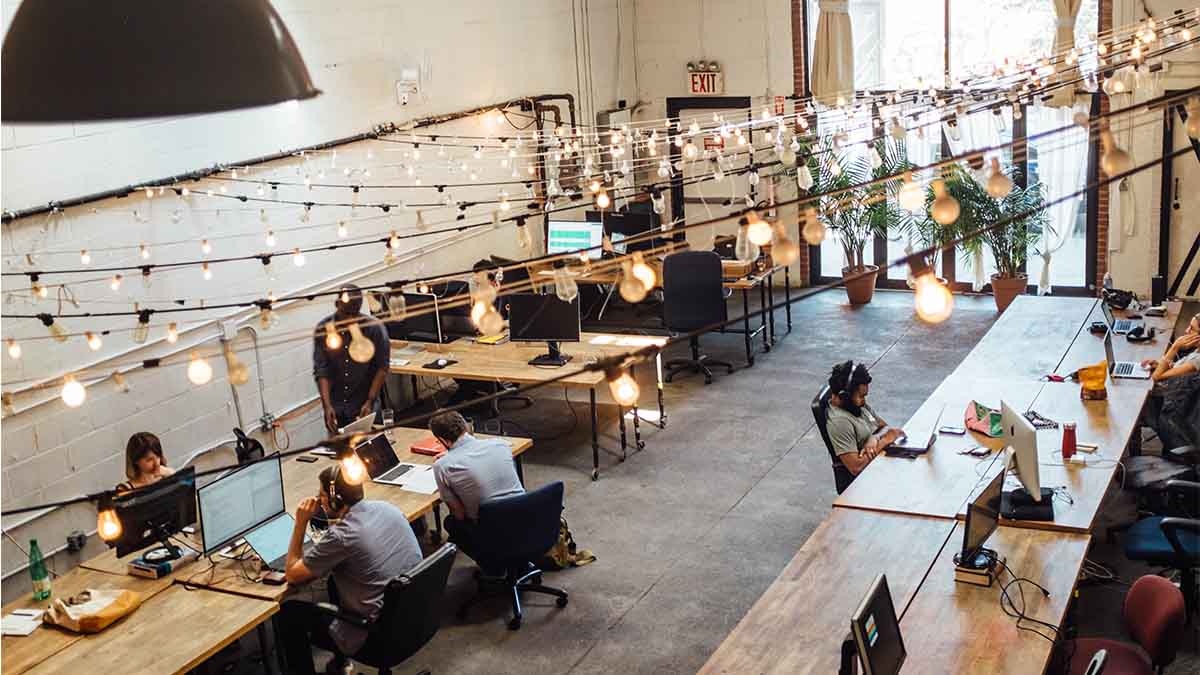 Working from home has its benefits, but more and more entrepreneurs, freelancers, and remote workers are choosing to go a different route. The rising popularity of coworking offices is a sign that workers see some advantages to these shared workspaces.
So let's take a look at what coworking spaces are, the pros and cons, and some popular coworking office spaces that you can use.
What are coworking spaces?
Coworking spaces are membership-based workspaces where people come together to work in a communal setting. The main difference from a traditional office is that the workers don't all come from the same company. Instead, they are made up of diverse professionals who pay membership fees to have access to a shared workspace.
They're impressive to look at
Another way coworking offices differ from traditional offices is in their interior design. Most coworking spaces look like a cross between a modern office and a chic coffee shop. Many of them offer a mix of private offices, expansive communal areas, and cozy nooks with comfortable seating.
They provide all the necessities
Coworking office spaces provide all the necessities you'd expect in a normal office such as computer equipment, internet, printers, individual workspaces, communal areas, conference rooms, kitchens and dining areas. Some also provide coffee and snacks, and others provide resources you might not expect, like health insurance plans and business incubator programs.
A global movement
Coworking is sometimes called a "global movement" because it's a growing trend around the world. Its supporters also say it's guided by some shared values. Those values include:
Community
Collaboration
Learning
Sustainability
But whether you consider these shared office spaces part of a global movement or just another option for where you can work, it's clear that coworking spaces have some advantages.
Who uses coworking spaces?
Coworking office spaces are frequently used by freelancers, entrepreneurs, small teams, and start-up businesses. Basically, they are used by any type of worker who would otherwise be working from home or need to rent their own workspace.
But the makeup of members can vary greatly depending on the particular coworking space. Some coworking spaces are popular among artists and activists, while others attract mostly tech professionals. And non-profit organizations also frequently make use of coworking spaces, since they are typically offered discounted membership fees.
Due to the advantages coworking can provide, some large companies have also started moving their remote workers into these shared workspaces. That includes companies like Nike, GM, Canadian Tire, and General Electric.
What are the advantages of using coworking office spaces?
There's no question that many workers and employers see coworking as a solution to some of the issues surrounding traditional offices and working from home. So let's take a look at some of the main advantages of coworking.
Cost savings
One major benefit of coworking office spaces is the cost. And if you're an entrepreneur with a small business, you know it's important to find ways to save money.
Membership fees at coworking spaces are very flexible. The fees can be based on options such as whether you want your own dedicated desk or a shared one (referred to as "hot desks"), or how many hours per month you need a private office.
Coworking allows you to rent only the space you need, when you need it—as opposed to renting an entire office, all the time. In addition, by teaming up with other workers to cover the cost of shared infrastructure, you avoid having to pay for certain overhead costs.
That includes things like equipment, utilities, custodial services, and receptionists. And when you compare coworking to renting your own office, another key benefit is you don't get tied into a lease.
Diversity of talent
One of the advantages that have attracted large companies to coworking is the diversity of talent. Since these shared office spaces are populated by workers from a range of companies and industries, it means the people working closely together have very different skill sets.
That enables diverse groups of workers to take advantage of each other's strengths. For example, there might be a web designer who hates doing accounting but is working right next to an accountant who needs a website.
It also makes coworking offices an ideal environment for sharing ideas and brainstorming. In addition, some companies see it as an opportunity for their employees to network and attract new talent to join their company.
A different office culture
Since the workers in coworking offices come from a variety of industries, it helps avoid competition and the usual office politics. While a little healthy competition may be good for motivation, it can also become stressful and disruptive to good teamwork.
In coworking offices, you never have to worry that any of the people around you are after your job. Instead, you can focus on your own work when you want to, and share your ideas, trials and tribulations more freely.
How does coworking affect employees?
Researchers have been studying how coworking office spaces affect employees. Their findings were published in the Harvard Business Review.
Through a series of surveys and interviews, they identified some major benefits that employees say they get from coworking. Here are some of the things they found.
Increased motivation and discipline
It can be difficult to succeed as a freelancer or entrepreneur unless you stay highly motivated and disciplined. But many people say coworking helps keep them on track.
Firstly, going to an office instead of working from home can provide some structure and routine to your workday. That simple change is enough to make many workers feel more productive.
In addition, working around others (even if they aren't your boss or even part of your company) can create a sense of accountability. When you're surrounded by eager professionals who are working hard, it can help inspire you to do the same. When you're feeling in a slump or not being very productive, the mere presence of those professionals can help push you to work harder.
A sense of community and identity
One of the major attractions of coworking is the sense of community. Every coworking office is different, and the managers of coworking spaces tend to put a lot of effort into fostering a unique culture that suits their members.
And workers say they enjoy feeling that they're part of something larger than themselves. Coworking spaces often provide a variety of social events, networking events, training programs, and more. These types of events can help create that sense of community.
Many workers also feel that coworking strengthens their sense of identity. That's partly due to the diversity of workers. When surrounded by people from different backgrounds and industries, many workers feel their knowledge and skills are more valuable. And this can make them feel more confident and secure.
Coworking office spaces vs. other options
Now that you know some of the advantages of coworking, let's take a look at how it compares to more traditional options.
Traditional office space
Traditional office spaces can provide many benefits. First of all, they're private, which means you probably never have to share a desk. It also means you won't need to look around to find a coworking space with the right type of members for you.
Despite the advantages coworking can offer by bringing together diverse workers, there are also some benefits to working with a group of employees who all belong to the same company.
One is that when working with fellow employees at a company, the people around you probably have a pretty thorough understanding of what you're working on. When compared to the diverse workers in a coworking space, these fellow employees are likely better equipped to help with obscure challenges and esoteric details.
Despite those advantages, there are a number of downsides to traditional offices. Here are some of the biggest drawbacks and how coworking can address them.
Rigid schedule
One drawback of working in a traditional office is the rigid schedule. And that's true whether or not you have a boss that ensures you stick to a 9-5 workday.
Even if you're an entrepreneur renting your own office space, it can limit your freedom to set your own schedule. That's because traditional offices aren't open all the time.
Even office buildings that allow early morning or late night access may be inaccessible at times, such as weekends or holidays. In comparison, many coworking office spaces are open 24/7 and workers can come and go as they please. So if you're someone who keeps irregular hours or does their best work in the middle of the night, coworking can enable you to set your own ideal schedule.
Toxic environments
If you're working at a traditional office, there's always the possibility of being stuck working with someone you don't get along with. Whether it's due to a disagreement or just a personality clash, it can suddenly turn your work environment into something negative.
Maybe you have to deal with that person regularly in meetings, or you might be unlucky enough that your desks are right next to each other.
Coworking spaces help avoid those issues by providing more freedom. Firstly, in coworking offices, you typically won't be sitting next to the same person every day.
When you're using a hot desk, it's more likely that you'll be shuffling around to a new spot each time you visit the office. And while many coworking spaces provide opportunities for socializing and networking, none of them are mandatory.
In addition, many coworking offices are managed by companies with multiple locations, and they often allow members to switch back and forth as they please.
Working from home
There are many jobs you can do from home, and it may seem like the ideal work arrangement. For example, when you're doing things like working as a virtual assistant or starting an e-commerce business, there's no obvious need for a dedicated office space.
By working from home, you don't have to pay any rent for an office, and can more easily take care of household responsibilities like keeping an eye on your kids.
But there are also many drawbacks to working from home that you may not have considered. Here are some of those drawbacks and how coworking may help.
It can get lonely
Working from home all the time can get lonely and demotivating. Humans are social animals, and spending your days in isolation can start to take a toll on your mindset.
If you've ever worked as part of a great team, you know that the people you work with can be one reason you're happy to go to work every day. And that's something coworking spaces can provide.
Many distractions
Another downside of working from home is there can be many distractions. If you're working in the same place you spend leisure time; you might have some of your favourite pastimes within arm's reach.
But having a place that's designated for work, such as a coworking office space, can help you stay focused.
Some people don't think you're at work
When you're working from home, family members and friends tend to show less respect for your work hours. Since you're so accessible, and they see that you have complete flexibility in your schedule, they might not be able to help themselves from distracting you.
But going to a dedicated office is one way to signal that you're working.
Working in a coffee shop
Coffee shops are another go-to place to work for many freelancers, creatives, and entrepreneurs. Some reasons for that include the affordability (you can have a place to work for the price of a cup of coffee) and the fast and free Wi-Fi.
However, the major downside of working in a coffee shop is the chance for disruptions. Because you never know when there's going to be a noisy customer or a group coming in.
So while coworking spaces can't compete with the low price of working in a coffee shop, it does ensure the people around you are there to work.
How to choose the right shared office space
If you've decided you need an office space, and that coworking might be right for you, here are some things to consider when choosing a coworking office space.
Members
Since one of the benefits of coworking is the opportunity to network and meet different professionals, when you're choosing a shared office space, you should consider what type of members they have.
Some coworking spaces have very diverse members, while others tend to attract workers in a specific industry. Often, coworking spaces will state upfront on their website the type of professionals that make up their community. So you can use that information to help decide if you'd be a good fit.
Amenities
There are some standard amenities that are included in practically every coworking office. But some coworking spaces go above and beyond with added features and resources. So it's a good idea to know what to look for.
Some of the standard amenities you should expect include things like:
Hi-speed Wi-Fi
Hot desks
Dedicated desks
Meetings rooms
Computer equipment
Lounge area
Kitchen
Receptionist
Some of the extras you can look for include things like:
Private offices
Large event areas
Specialized equipment (such as 3D printers or special software)
Storage space
Health insurance plans
Business coaching programs
Cost
Some coworking spaces post their pricing on their websites, while others ask that you contact them to find out.
The cost of a shared workspace can vary greatly depending on the space and options you choose. For instance, the high-end space Werklab in Vancouver offers memberships that range up to $2600 per month. That plan gives you unlimited access to your own private office with 12-foot ceilings and capacity for 6-8 people.
But if you only need a hot desk for a limited time per month, there are Werklab memberships for $195 per month. So make sure you shop around and think about what features you want and how much you want to pay because the price of coworking is very flexible.
First impressions
When choosing a coworking office, you can consider what impression the location and its design convey—and how important that is to you. For example, if you plan on using the boardrooms for holding meetings with clients, you may be willing to pay more for a stunning space that will impress them.
However, if you only plan to use it as a place to work, you may be able to save money by choosing a space based more on its amenities instead of its appearance.
Popular coworking spaces in Canada
Here are some coworking spaces in Canada that are worth checking out. They include some of the most well-known and noteworthy ones in the country.
District 28 is a coworking space that is popular among creatives, entrepreneurs, and innovators. Its website describes it as a multi-media facility, and it provides a number of features that are useful for film production.
The building is an 18,000 square-foot converted factory that includes private and shared offices, meeting rooms, video post-production suites, a large event area, a 4K theatre for video screenings, and a bar bistro.
The video editing suites at District 28 feature the latest technology and software, including Adobe Creative Suite, Da Vinci Resolve, and Final Cut Pro. These features make this coworking space a great choice for working on video projects.
This coworking office has a more traditional appearance when compared to the others on the list. It conveys a very professional vibe and is located at a high profile corporate address at 175 Commerce Valley Drive.
But it also offers features including standing desks, balance ball chairs, and an outdoor terrace. Another feature that sets it apart is the daily complimentary access that members have to use the boardrooms.
Many coworking memberships provide a certain number of hours you can book their boardrooms for free each month. But York Executive Group's memberships are more flexible when it comes to using boardrooms.
Located in downtown Hamilton, CoMotion on King is a 10,000 square-foot facility in the building that once was home to The Hamilton Spectator newspaper. The building fell into disrepair in the 1990s and was restored years later. Now CoMotion on King attracts entrepreneurs and small businesses of many kinds.
It features private offices, conference rooms, kitchen and dining area, and a common lounge with modern rustic décor and exposed brick walls. It also has a rooftop patio and an event space that can accommodate up to 100 people.
This coworking space also offers many networking events and business development support programs.
Work Nicer has coworking spaces in Calgary and Edmonton. The space in Calgary, Work Nicer Stephen Avenue, is the original location. It features a modern design with an expansive open area and exposed concrete. It has attracted professionals from a range of industries including real estate, event management, and tech startups.
It offers members support, including community events, workshops, mentorship programs, and incubator programs.
Werklab provides great views of Vancouver, with bright and beautiful interior design. The Werklab website says it's "a hub for personal and professional development. With a focus on holistic and integrative wellness."
Its members describe it as both energizing calming. It offers many perks such as one-click lunch service, espresso bar, daily classes in their yoga studio, and a meditation lounge.
It also features a studio with stunning natural light for photoshoots or filming. And another uncommon feature is that one of their private office spaces is a treatment room.
It's designed for use by counsellors, psychologists, and psychiatrists (or can be converted for use by massage practitioners.) And members get to use those services at discounted rates.
L'Atelier is a coworking space in the Gastown neighbourhood of Vancouver. The name is French for "The Workshop," and it is known for its attractive and modern interior design.
Most of its members are involved in design, e-commerce, marketing, PR, writing, animation, UX, innovative tech, and content creation.
It offers a wide range of membership options, and they're all reasonably priced. For example, the "Professional" membership costs $450 per month. It includes your own reserved desk, storage space, free use of meeting rooms and more.
The "Get out of Your Pjs" membership costs $195 per month and gives you up to 60 hours at a hot desk. Or if you only need a workspace short term, you can pay $35 for a one day pass.
How to find coworking spaces near you
If none of the spaces catch your interest, there are also a number of online directories you can use. They can help you find coworking office spaces near you and compare their features. The two biggest directories are Coworker.com and CoworkBooking.com.
And if you find a space that you like, give them a call and ask to check it out. Many coworking spaces offer a free trial or at least a tour.
Being an entrepreneur isn't easy. But finding the right place to work can help you succeed.
Ready to start your business? Ownr has helped over 100,000 entrepreneurs hit the ground running quickly—and affordably. If you have questions about how to register or incorporate your business, email us at [email protected].
Share This Story, Choose Your Platform!