How to Set Up a Google My Business Account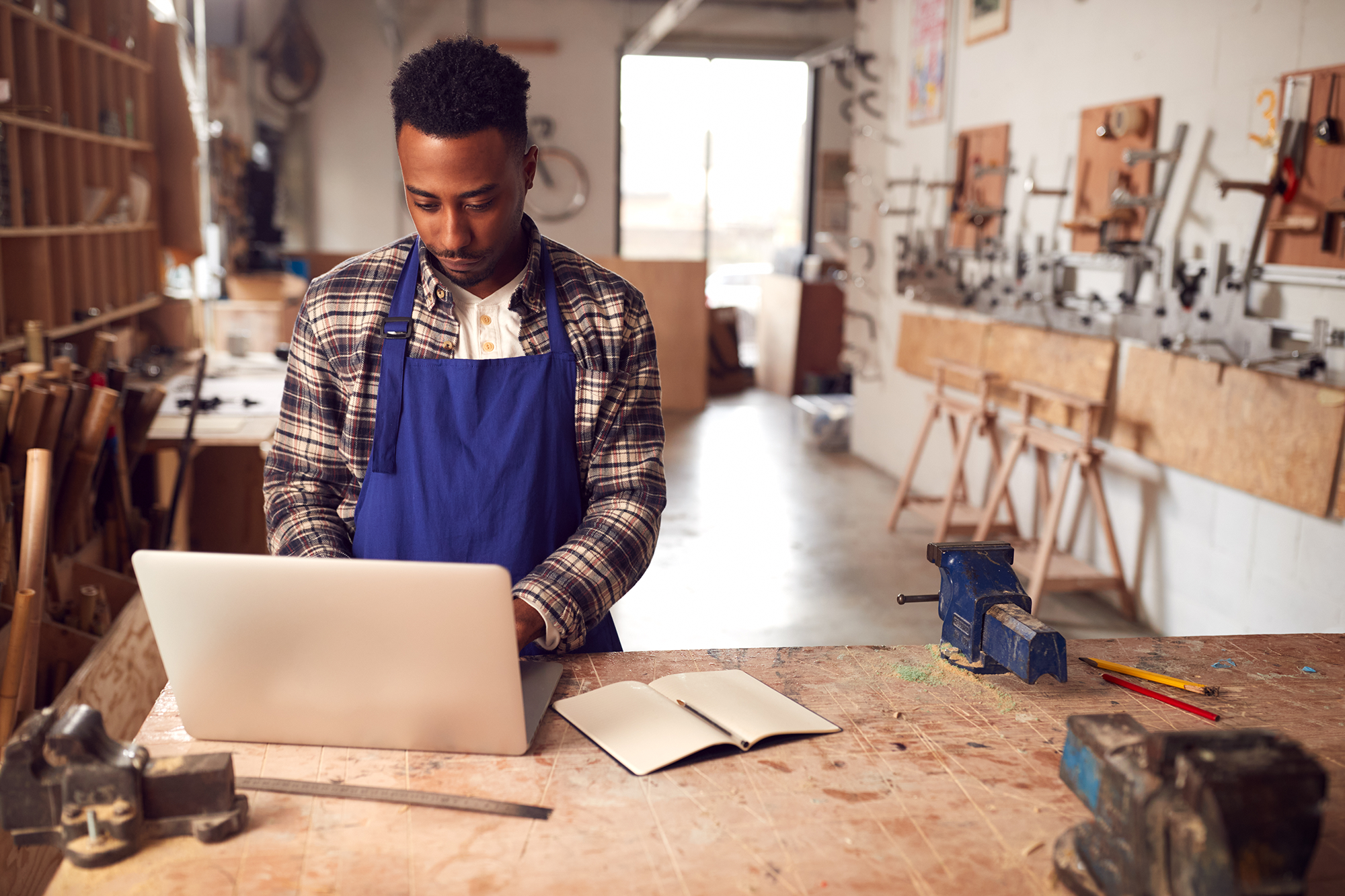 As an entrepreneur, you want to do everything you can to get discovered by potential customers, and a free Google My Business listing is a great way to do just that. 
According to Statcounter, about 90 per cent of organic online searches are performed using Google as opposed to any other search engine. With a verified Google My Business account, you can feel confident your customers are getting accurate information about your business when they search for you online. In this article, we'll take you through everything you need to know about setting up your Google My Business account and optimizing it to reach a wider audience.
What is Google My Business?
A free Google My Business account provides business owners with an online place for you to list up-to-date information like hours of operation, physical address, phone number, email address, and website. You'll get access to a comprehensive online dashboard where you can manage all the information on your Google My Business listing, as well as add photos, products, and updates.
Google My Business accounts are especially helpful in boosting local SEO. If you haven't already looked into setting up Search Engine Optimization to improve your business's online visibility, now is a great time to do so. A Google My Business account uses SEO for business listings. If you own a bakery and have a verified Google My Business account, whenever someone nearby searches "bakeries near me" on Google, your business will come up.
Your Google My Business account is also a method of free marketing for your business. Your free account allows you to promote your Google Business Profile, website, and products on both Google Search and Google Maps.
Why is it important to set up a Google My Business account?
Here are some ways setting up your Google My Business account for your small business can benefit you.
Access and edit your Google Business Profile
It's possible that your business might already have a Google Business Profile, even if you didn't set one up. However, this listing may be out-of-date or contain incorrect information. You won't be able to access your profile and make changes without creating a Google My Business account and getting verified. 
According to this BrightLocal study from 2018, 68 per cent of consumers would stop shopping with a business if they found incorrect information online, which shows why it's really important you can update your Google Business Profile.
Curate your online presence
Whether you have your own business website yet, a Google My Business account gives you a place online where you can provide customers with important information and update them on products and services, or hours of operation. 
Get a competitive advantage
In order to get your Business Profile ranking above your competitors, you need a Google My Business account where you can optimize your listing with relevant keywords. This makes it easy for both current and potential customers to find out about your business.
Access valuable insights
Not only does a Google My Business account help you create a professional business listing, it also gives you access to all kinds of insights about how customers discover your listing and what they do once they find it. 
Respond to reviews
According to a Google/Ipsos Connect survey, responding to online customer reviews helps businesses to build customer trust. In fact, consumers find businesses who respond to reviews are 1.7x more trustworthy than those who don't. It can feel disheartening when some leaves a less than stellar review, but responding professionally to negative reviews can improve your business's public image.
Besides all the reasons we listed above, people expect to see a Google Business Profile for a legitimate business. If your listing is lacking in information or personality, your potential customers could choose to go with a competitor who appears more professional instead of you.
8 simple steps to set up your Google My Business account
Now it's clear why you need a Google My Business account, we'll walk you through the eight steps to get your profile set up and verified.
1. Create a Google account
If you already have a Google account, you can use that now. You don't need a Gmail account in order to set up your Google account, but if you have a Gmail address, you already have a Google account. However, it's a good idea to have a separate Google account for your business, so that you can keep your professional and personal lives separate.
If you need to create a new account, head to the sign-in page and click Create Account. You'll see the option of choosing to create an account "for myself" or "to manage my business." Select the business option and follow the steps.
2. Go to google.com/business
Click Manage Now and you'll be able to start the process of making your Google My Business account.
3. Enter your business name
Start typing your business name. If your business already has a Business Profile, you'll see that listing come up. Click on it, and you'll have the option to claim it as your business, or if the profile has already been claimed, you can request access or report a problem. If you don't yet have a Google Business Profile, you can create a new one at this stage.
4. Enter the address of the business location
Next, you'll have the option of adding your physical location. If you operate out of an office or storefront, enter the address here.
5. Choose your business category
When choosing your business category, try to use a relevant keyword related to the type of business that you do. 
6. Specify your service areas
If you serve a specific location or group of locations, you can enter them here. You'll be able to change this or add more locations later on. If you opted out of entering your physical address, you're required to enter at least one service area so that consumers know where you operate. You'll also be asked to specify which country your business is based out of.
7. Add a phone number and website URL
Providing accurate contact details is one of the most important elements of a successful Google Business Profile. Enter your business phone number and email address, as well as your website. If you don't have a website for your business, you can choose not to include one, or you can get a free website based on your Business Profile. You are required to include either a website URL or a phone number to move on from this step.
8. Verify your business 
Now that your Google My Business account is set up, the last and most important step is to get verified before your listing can be published. Most businesses will only be given the option to receive their verification code by mail. Enter your mailing address, and in about five days, you'll receive a postcard with a unique verification code which you can enter online. Once this is complete, people will see your updated Business Profile on Google searches.
In some cases, you may also choose the phone verification or email verification option. You'll know if you're eligible for these options if they show up on the verification page. If you choose phone verification, you'll get an automated message with your verification code. If you choose email, you'll receive your code that way.
Instant verification is available for businesses that have already been verified with Google Search Console. Bulk verification is also an option for businesses that operate 10 or more different locations.
How to optimize your Google My Business account
Once you've been verified, you may think that your job is over, but that's not the case. In order to really stand out on Google searches, take the time to make use of these other features that Google My Business offers.
Add photos and videos
According to Google, "businesses with photos are more likely to receive requests for driving directions to their location, as well as clicks through to their websites." Uploading your business photos and videos can help you grab the attention of potential customers. You could include photos of your products, your physical location, and any additional photos that will help viewers understand what your business is all about.
Write a great business description
One of the most important elements of your Google Business Profile is an engaging description. Include details like whether you offer outdoor seating or are wheelchair accessible. You can also list information like if you identify as a woman-led business or if you are a LGBTQ2S+ ally, and what kinds of payment you accept.
Make use of the Q&A section
Besides providing a forum where potential customers can submit questions, you can also use the Q&A section to respond to any frequently asked questions you receive. Just submit a question and answer it from your business account.
Post statuses with promotions and offers
Your Google My Business account allows you to create posts to offer special deals or share updates. You can even add a coupon code or a link to redeem the offer, bringing people directly to your online shop.
Add product collections
You can add product listings and sort them into collections for people to browse through. If you're a service-based business, simply list your services as if they were products. Don't forget to add a link to bring potential customers to your website store.
Include a button to order food online
If you're a restaurant offering takeout or delivery, you can set up an order online button by partnering with an approved third-party provider.
Use Google reviews
In order to get some reviews on your new Business Profile, you can send the review form to past customers.
Set up messaging
With the messaging option, customers will be able to message you directly on your phone, so you can respond quickly without revealing your phone number.
Add users to your account
If you have someone who will update your Business Profile on your behalf, you can add their Google account to your Google My Business account.
Check your insights
Regularly checking your Google My Business insights can help you figure out how to adjust your marketing for even better results.
Create paid advertisements
A Google My Business account is completely free, but if you want to take your Business Profile to the next level, you can also make use of paid advertising to help boost your listing to the top of search results.
Now that you have a thorough understanding of why you need a Google My Business account and how to set one up, get out there and get verified!
Ready to start your business? Ownr has helped over 100,000 entrepreneurs hit the ground running quickly—and affordably. If you have questions about how to register or incorporate your business, email us at [email protected].
Share This Story, Choose Your Platform!