Meet the entrepreneur who brought Le Dîner en Blanc to Toronto
Diner en Blanc, French for 'Dinner in White' is an annual picnic held across 80 cities in 30 countries around the world. Dressed in all white and armed with picnic essentials, guests gather at a location that's revealed to them at the last minute. The concept originated in Paris in the 1980's to celebrate friendship with a touch of elegance. Jessica Tan, the host of Toronto's Le Dîner en Blanc talks to us about the joie de vivre of this coveted summer event, and what it takes to be a successful event planner.

Q1. What is it about this pop-up picnic that connects with people, and has managed to build a loyal following?

It's really an event grounded in tradition. It's a tribute to the elegance and glamour of French, high society. You gather with friends with the sole purpose of sharing a gourmet meal, secretly in the heart of the city's most stunning and iconic locations. . Diner en Blanc is exceptional, both in the sheer magnitude of its design and execution. The event always takes place in a public space, and only privy to invited participants from the previous year (or those lucky enough to be selected from the waitlist).

Q2. Take us back to the first year of Le Dîner en Blanc. What were some of the hard lessons you learnt in starting a business?

Diner en Blanc Toronto was my first foray into entrepreneurship. I took that step working full time in a very demanding job. Time was a premium, and balancing my personal and professional life was a struggle. Building our team was critical, along with bringing the right partners on-board. It's one thing to be passionate and have an idea, it's a completely different story to bring it to life. There's a lot of trial and error. I would say having the right people by my side helped me avoid some of the pitfalls of a first-time entrepreneur.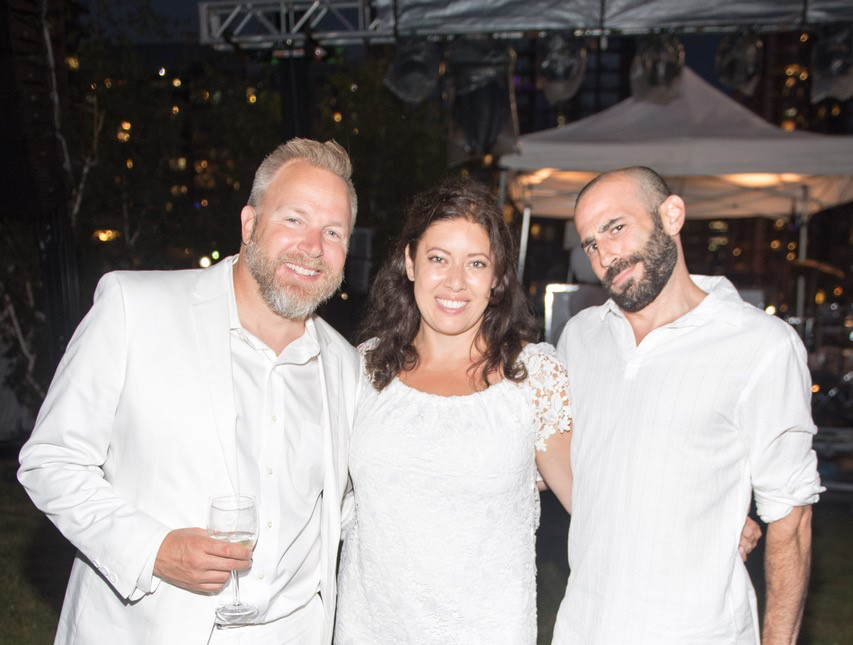 Q3. As the local host of Toronto's edition of Le Dîner en Blanc, what kind of challenges – operational or others – do you deal with?

When the event first started, there was a lot of excitement for the concept, but a big knowledge gap from our team and partners. We had to prioritize logistics, team recruitment and educating everyone involved from our partners to city departments..

One of our biggest challenge is navigating city bylaws and regulations when choosing a venue, while creating an event that honours the traditions and rules of Le Dîner en Blanc International. It's tough finding new venues each year that can accomodate the size of our guestlist, and keep the location a secret. In the past, a couple of very eager reporters tried to unearth our secret location by calling city and permit offices.

Q4. How big is your team? And what are your key responsibilities in the months prior to the event?

Our team consists of myself and my partner, as well as vendors and suppliers who've been with us since 2012. Additionally, we have an incredible group of volunteers (100+) who help bring the event to life.

Collectively, we're responsible for sourcing and securing the venue, obtaining permits, building the infrastructure (we're often in a bare bones space), planning transportation for thousands. It's a big job ensuring a flawless guest experience from registration to the actual event.

Q5. What do you like about being your own boss? And does it ever get challenging?

It's definitely been a shift in mindset from the corporate world. The hours are longer, and it's a rollercoaster ride. But being your own boss is incredibly empowering. It's stressful, but the rewards are ten-fold.

Q6. You've just become a new mother. How do you see yourself balancing your role as a mother and an entrepreneur?

Balance was a challenge before, and now being a new mother has brought an entirely new dynamic to how I manage my time. I have a newfound appreciation for working mothers. Personally, I had plans to scale back and take maternity leave, but instead I started a third business during my first month of motherhood. I'm someone who thrives on being busy, so I doubt anyone expected me to take too much time off. Don't get me wrong, there are sleepless nights, and I have my support network to lean on.

Q7. What is your advice to other entrepreneurs in the events industry. Is there a certain mindset that you adopt to tackle the uncertainties of event-planning?

Critical to your success is having a plan. Occasionally something unexpected will pop-up, but know how you handle the unexpected is even more important than the plan itself.
Work on building your network, because every conversation can turn into an opportunity.
Stay ahead of the curve, and spend time on new ideas,technologies, and be curious. It was this sense of discovery that led me to randomly walk into a building in Istanbul. Inside was an incredible space we ended up using for one of our events.
There's a lot of highs and lows when you run your own business, so be prepared to cope and take care of yourself when required.
Trust your gut, it's usually right.
Ready to start your business? Ownr has helped over 40,000+ entrepreneurs hit the ground running quickly—and affordably. If you have questions about how to register or incorporate your business, email us at [email protected]
Share This Story, Choose Your Platform!