Preparing for Your First Pitch Competition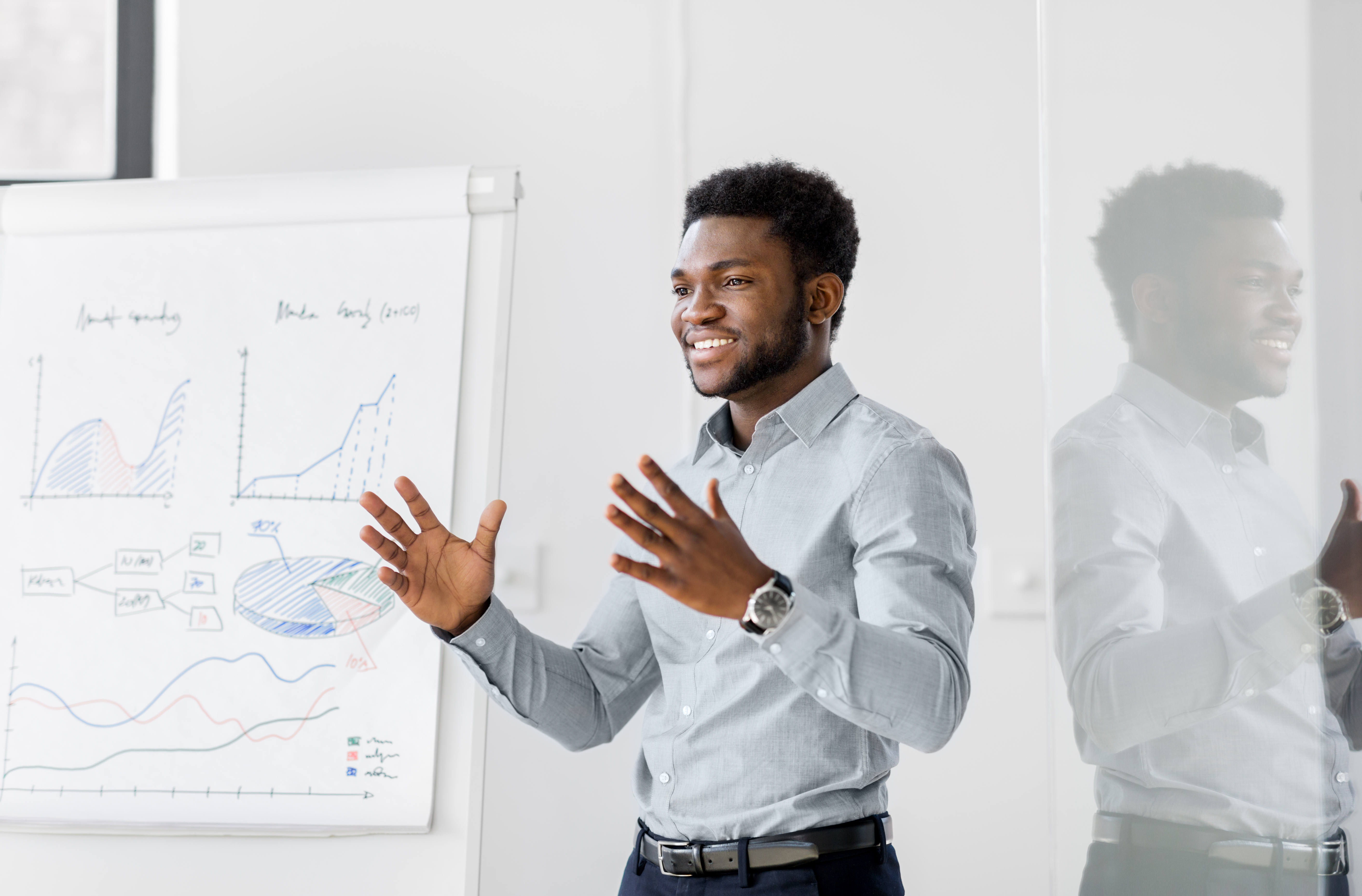 In preparation for the Ownr + OCAD University pitch competition, through Ownr Career Launcher for Creative Entrepreneurs, finalists are required to prepare a business pitch to a jury of experts. But you might not have prepared a pitch before, and that can be intimidating.
We've created this step-by-step resource with detailed requirements on how to prepare a pitch and set you up for success with your proposed company venture.
What is a pitch?
A pitch is a proposal of a project, business, or a written or visual delivery. Pitches can vary from one paragraph to a detailed account of all business steps, including financial, mission and values, target audience, demographic or customer base, and the steps taken to get to the place you are already at.
Depending on the complexity, a pitch can mirror a business or grant proposal. A pitch can be a written document or oral or audiovisual. The amount of detail you provide will be determined on the length or amount of time you have to pitch.
Components of a successful pitch
A successful pitch required for this competition will include a few components.
1. Demonstrates clear concept and vision
An ability to articulate your concept and vision shows thoughtfulness and care taken in research. Without a clear understanding of concept and vision, neither you nor the judges will be able to understand what you are trying to propose.
What exactly is your business idea?
You should be able to sum up your business idea conveying what product or service you are providing and to what target market. You don't want your viewers left wondering what it is you're trying to accomplish.
Why are you the right entrepreneur?
Anyone reviewing any pitch needs to know why you are the right person for this. What sparked this idea, why are you interested in this business, and what does it mean to you?
Clearly explain what expertise you have in this field. Demonstrating that you are already familiar with the necessary details will help judges believe in your ability to execute your business plan successfully.
Why is this venture unique and important?
Your venture should fill a gap in either a business market, a social justice issue, or educational purpose and should include your unique vision. Will your proposed venture encourage, strengthen, and inspire the market you are targeting?
A business that reads like a slew of others won't inspire.
Demonstrate that you know the market in which you are working and how you will set out to make an impact with this venture.
2. Consider the audience listening to your pitch
There are many different types of pitches. You could be pitching to a potential client, collaborator, or in this case, to a jury to secure funding. Make sure your pitch is geared towards the right audience. Think about what it is they are looking for and deliver that.
There are a few things to keep in mind when you're pitching to a jury:
What milestones do you anticipate?
Milestones are measurable goals. They help you look at your end goal so you can break it down into tasks that can be operationally defined.
It's also a good idea to highlight milestones that have already been accomplished. This shows that you have not only put considerable time and research into your company concept but have started to execute it. This makes for a good investment.
How will you utilize the funds?
You don't need to give a detailed breakdown of how funds will be used, but giving a fairly clear idea of how the funds will allow you to hit your milestones and propel your idea is important in demonstrating that you have put considerable effort into developing a plan.
While you are doing this, it may be beneficial to create a financial analysis as well.
3. Style, language, and clarity of pitch
The contents of a pitch are just as important as how that pitch is presented. You could have a stellar idea, but if you don't communicate it effectively, it'll fall dead in the water.
Conveying your passion for getting people interested in your idea is all about using clear, concise language. Be impactful. Bring your idea to life.
4. Clear summary
Give a quick wrap-up, using impactful language that shows capability and passion. You want to leave your reader with a satisfied and inspired feeling.
Preparing for a video pitch
If you plan on submitting a video pitch, it helps to write out your pitch beforehand. Writing out your script first helps avoid using filler words like "um" and "like." Those words will not make you sound confident. Once you have the script, practice, practice, practice. Make sure you look right into the camera and use voice inflections, so you don't sound monotone or like you're reading off a cue-card (even if you might be!). The benefit of submitting a video pitch means that you can submit that one perfect take.
Most importantly, be yourself! There is no one like you. Show that.
Ready to start your business? Ownr has helped over 30,000+ entrepreneurs hit the ground running quickly—and affordably. If you have questions about how to register or incorporate your business, give us a call at 1-800-766-6302, Monday through Friday from 9 am to 5 pm EST, or email us [email protected]
Ready to start your business? Ownr has helped over 100,000 entrepreneurs hit the ground running quickly—and affordably. If you have questions about how to register or incorporate your business, email us at [email protected].
Share This Story, Choose Your Platform!