Success Story: Samantha Lloyd | Float or Founder Recordings Inc.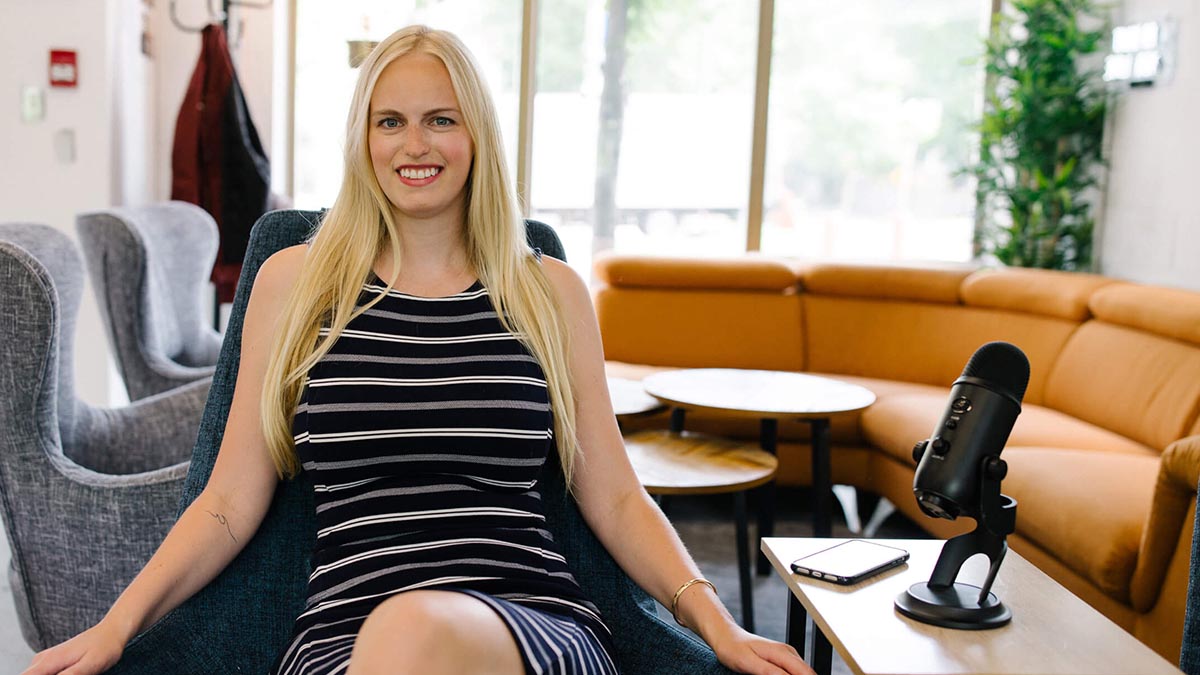 In this Ownr Success Story, we spoke with Samantha Lloyd, a Toronto-based entrepreneur, content strategist expert, and podcaster extraordinaire. We had the chance to learn about her up-and-coming podcast, Float or Founder, which focuses on the stories, lessons and failures of Toronto-based founders and entrepreneurs, as they build their companies.
About Samantha
Samantha has been working in Toronto's tech industry for a while now. She began at a couple of SaaS startups and later went on to run her own small-business-targeted digital agency. Through this, she realized the huge impact that a focused creative strategy could have on a small business's bottom line. This included a full suite of marketing strategies, like content, SEO and branding.
Now, Samantha works at Tucows where she is the Content Marketing Manager for Hover—the best place to reserve a great domain name. Her work at Hover has been broad and impactful: crafting countless SEO-focused pages that resulted in a significant increase in traffic and decrease in bounce rates, managing the Hover blog, and leading rebranding initiatives for Tucows, such as launching an internal employee magazine. Working in tech (both old and new!) has shown her how much she loves the industry overall and she wanted to continue to broaden her network and expand within the world of entrepreneurship and more.
Float or Founder
In 2019, Samantha, along with her host and husband Lisen Kaci, decided to create something that would allow entrepreneurs and founders to come together to share about what's going in their industries and companies. Samantha highlights that there is a lot of media attention around Silicon Valley and the work happening there, but Toronto doesn't always receive the spotlight it deserves The decision was to make Toronto entrepreneurs the focus. With her and her co-host's entrepreneurship background, they ask tough questions about the reality behind running a business.
"Toronto is just as cool and a ton is happening in tech & AI. We really wanted to highlight what people are building here and show off this ecosystem – that's what Float or Founder is about."
Why she loves what she does
Samantha loves to connect with new people and dive deep into their businesses to get a better understanding of how they're looking at growth and challenges. This includes connecting with founders in a wide variety of industries through the podcast and meeting with them at their offices.
The challenge
Developing a good podcast is so much more than just having a good idea and talking on a mic. There is a lot of administrative and planning work involved in setting up calls, scheduling, meeting with people, preparing an interview agenda and setting up a space so that the sound of the podcast goes off without a hitch. Every single time is a little bit different.
"We've learned that even something like the type of table that is available at the time of recording can cause an issue for us during recording. It's crazy how many moving parts are required."
Samantha wanted the podcast to be a place that entrepreneurs felt comfortable speaking on and opening up. She also wanted the podcasts guests to look at Float or Founder with the same legitimacy that they view their own companies. This meant formalizing her side hustle by incorporating.
Using Ownr: A new way
Once she knew she had to get incorporated, she researched on Google to find an answer, but was inundated with various avenues, resources, debates, and opinions on the best way to get this done.
"It was overwhelming – different sites with different information, government sites that are hard to navigate, and leave you hunting and asking yourself if you've got everything."
Then she came across Ownr, and it helped her get everything needed in one quick go.
"Ownr handled everything for me in one place. From reserving my business name, to having access to an open chat with the success team, the whole process was really amazing."
The future
So, what's next for Samantha? Float or Founder will always be a passion project, continuing to release incredible episodes and content every week. At Hover/Tucows, she loves what she does, and gets to work with an incredible team.
Further down her career, she wonders if she'll take the lessons learned from the entrepreneurs on her podcast and her past experience, and build her own company. At that point, she'll need a guest host for her podcast to conduct the interview!
Ready to start your business? Ownr has helped over 100,000 entrepreneurs hit the ground running quickly—and affordably. If you have questions about how to register or incorporate your business, email us at [email protected].
Share This Story, Choose Your Platform!