18 Creative Ways to Earn Money From Home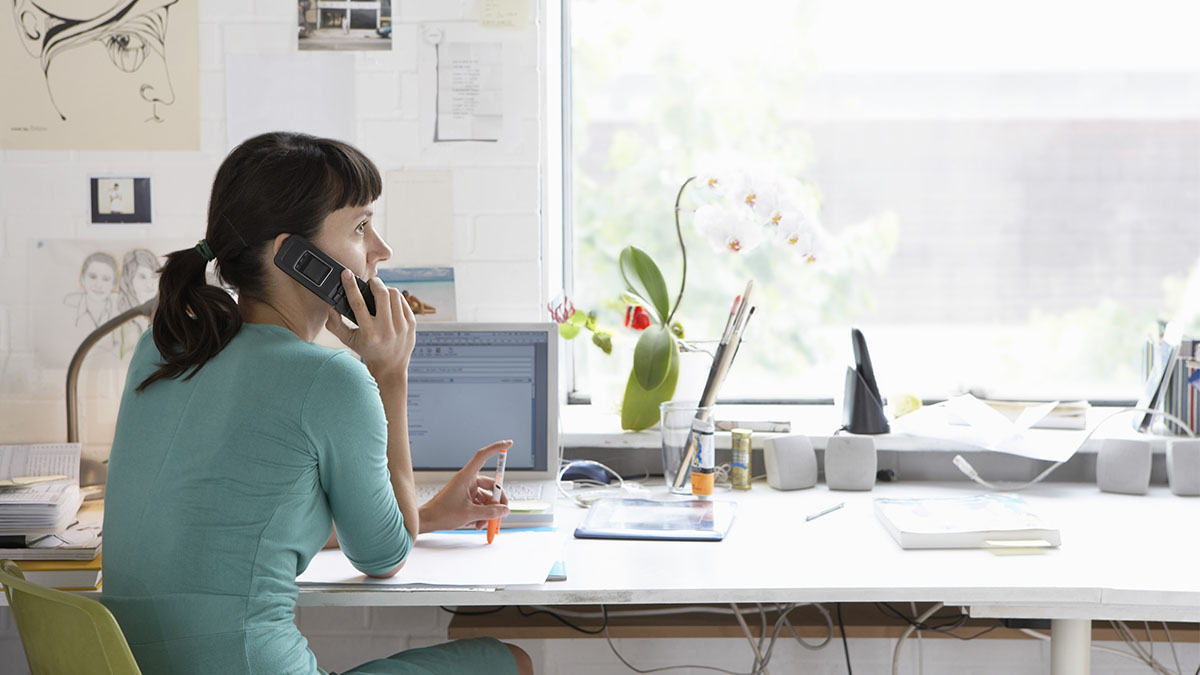 For many of us, the idea of making money from home is enticing, though our reasons for this can vary. For some, it's a matter of convenience. For others, it's a desire for a complete lifestyle change. Others still may not even be looking for a day job but are instead looking for extra income streams to help reach their financial goals, whether saving up for a house or paying off some credit card debt. 
No matter our motivations, for many of us the prospect of working from our home offices (or living rooms!) can, unfortunately, seem out of reach. This is especially true if you have never worked from home before, as the process of getting started with earning virtual money can be somewhat intimidating.
Fortunately, there are many different ways to work from home to fit many different types of personalities and skillsets. In this article, we will offer some of the most popular ways to make money online, from long-term strategies to one-time actions, so that you can get to work and get paid.
1. Sell your clothes online
Declutterers and chronic organizers rejoice—did you know that last season's clothing collection can be a money-making avenue in disguise? If you are in possession of gently-used quality clothing, you can earn a side income from selling them on platforms like Poshmark, Etsy, or even Facebook Marketplace.
Although prominent brand names will likely fetch the largest sums of cash, you can even find buyers for common brands like H&M and Old Navy. If you have an eye for fashion, you may even find some success by finding designer brand names for a low price at thrift stores and flipping them around for a profit.
2. Trade in your old electronic devices
Did you know that a staggering 96 per cent of Americans own a cell phone? With numbers this high, it's no surprise that the average person has at least one old cell phone lying around the house. Even if your device is no longer functional, you can still make money by selling the device online to organizations like GoRecell in Canada or BuyBackWorld in the United States.
3. Teach an online course
It's possible that we were already experiencing the golden age of e-learning, even before the pandemic sent many of us into a life that revolved around Zoom calls and online platforms. It seems like no matter what you are interested in—whether it be gardening, marketing, or physics—there is some kind of online course catered towards you. While you may have thought about taking a course before, have you considered that it might be possible to get paid to teach a course? If you possess knowledge or experience in a particular skill, you may be able to make a considerable amount by teaching it through a platform such as Udemy or Skillshare.
4. Become a bookkeeper
Do you have an eye for numbers? If the thought of a spreadsheet full of figures doesn't make you recoil, you might make a good bookkeeper. It's a common misconception that being a bookkeeper, like being a Chartered Professional Accountant, requires a special degree or training. In reality, you can learn how to be a bookkeeper by taking an online course (if you're in Ontario, here's a great one at Centennial College). Once you have received rudimentary training, you can take on bookkeeping clients from the comfort of your own home.
5. Find work as a customer service representative
If you have experience working customer service jobs, whether it was within a restaurant, a retail store, or elsewhere, then you may be able to find employment as an online customer service representative. Many companies hire individuals with customer service experience to provide help to their customers via instant messaging, email, or telephone. These jobs are often flexible in their hours and can be done from the comfort of your own home. Some companies, such as Shopify, will even help you set up your own work-from-home space by assisting you with purchasing certain office equipment.
6. Consider babysitting or nannying
Babysitting may be traditionally known as a teenager's domain, but it's a valid method for adults to earn cash, too. Not only can babysitting be fun, but it can also be an easy job to come by, especially if you use a platform designed to connect parents and caregivers. In many cases, it may also be possible to watch children from within your own home.
Long gone are the days of signs on lamp posts and ads in the newspaper. It is now easier than ever to find consistent childcare gigs and market yourself as a reliable caregiver, thanks to sites like Care.com and UrbanSitter.
7. Become a personal trainer
It may seem strange to see the option of being a personal trainer listed as an option to make money online, but now, more than ever, people are turning to online platforms for fitness advice and inspiration. If you have a passion for fitness and encouraging people to reach their health goals, then the life of an online personal trainer may be for you.
To get started, you'll need a level of fitness ability, above-average communication skills, and social media savviness. It wouldn't hurt to also have some form of personal training certification as well as standard CPR and First Aid Training.
8. Become a transcriptionist
Do you have a passion for words and a keen eye for detail? A transcriptionist is tasked with creating written documentation of audio or video, whether for a TV show, corporate meeting, or court case. Transcription work can generally be broken into three categories: legal, medical, and general. While some states and provinces require legal transcriptionists to have specialized training, all three of these types of transcription can generally be learned on the job. One great place for beginner transcriptionists to start is Rev, a company that connects freelancers with small transcription projects.  
9. Sell unused gift cards
If you're like the rest of us, the chances are that you have received a gift card or two as a gift that you did not intend to use. If you have gift cards hanging around the house that you have no plans for, it may be possible for you to get your cash back on them. Although selling a gift card or two may not resemble a viable full-time job, it can translate into quick, easy money. A good place to start is with sites like ClipKard or Card Pool. 
Speaking of cards, gift cards are not the only way to earn yourself an income. You may also be able to make some extra money through your credit cards by switching to options that allow you to earn cash back.
10. Pick up freelance work online
If you work as a writer, a graphic designer, a photographer, or a translator, you may have an in-demand skill conducive to the world of freelancing. Freelancers work with companies or organizations on an inconsistent or freelance basis to produce projects. When people talk about a side hustle, they are oftentimes referring to freelance gigs, as this is one of the most popular ways that individuals earn money online.
If you are looking to take it to another level, you could start a blog. If readership levels are high enough, bloggers can earn an income through ad revenue acquired through Google Adsense (similar models are available if you have a YouTube channel). However, to be successful with your blog, you will need to have a niche that you enjoy writing about, the time capacity to make regular updates, and at least a base knowledge of SEO.
Although many people freelance as a side gig, it is also possible to make freelancing your full-time reality by creating your own home-based business. If this seems like a lot of effort, knowing the pay-off may be motivating—the most successful freelancers can make upwards of $100,000 USD a year, or nearly $9,000 USD per month!  
11. Test websites and apps
Do you get annoyed if a website glitches out or if you have to search high and low for relevant information on a landing page? Did you know that you can actually get paid to point out these flaws? Website testing is a profitable way to earn some cash, and it's growing in popularity.
The best part is that you don't have to be an expert in providing valuable feedback on the function of websites or apps. In fact, sometimes the most valuable feedback comes from regular users who will interact with the product in their day-to-day life in a similar nature to their prospective customers.
12. Become a virtual assistant.
Becoming a virtual assistant is emerging as one of the most popular ways to earn money from home. Although a virtual assistant's duties can vary depending on the client, many virtual assistants will assist with things like administrative tasks, appointment scheduling, and social media management. Virtual assistants value the ability to work whenever they want, wherever they want, while at the same time connecting with people from all around the world.
13. Make money as a professional organizer
Did you know that a passion for organizing can actually be turned into a lucrative day job?
Another avenue to becoming a professional organizer is to start your own business—although this will involve a considerable amount of start-up effort. While some professional organizers may find it essential to visit their clients in person, it is possible to counsel clients at a distance without leaving your home. If you would like to learn more about what is involved in being a small business owner, you can turn to online resources to read up on it and get a taste for it first—some great selections include Entrepreneur Media Inc, the Google Small Business YouTube channel, and of course, the Ownr blog.
14. Sell services on Fiverr
Fiverr is an online platform that connects businesses with freelancers. If you want to make money from home but are unsure where to start, Fiverr is an easy-to-use portal to various work-from-home jobs.
You don't need to be an expert in offering your services on Fiverr, although having a bit of experience certainly won't hurt you. One of the best things about Fiverr, though, is the diversity of tasks that are available, from copyediting to social media posts to online tutoring to data entry.
15. Offer graphic design services
If you have a passion for visual arts and want to explore this through a digital medium, then a career in graphic design may be ideal for you. Graphic designers create promotional or informative materials for businesses, either by hand or through a computerized program. Graphic designers are employed by creative agencies, firms, non-profit organizations, communication departments, higher learning institutions, and more. Many graphic designers are also self-employed. While it is common for graphic designers to possess a relevant degree or diploma, it is not necessary, and many graphic designers are self-taught.
Performing graphic design at home is certainly possible—not to mention common—but there is more equipment required than, say, a freelance writer would need. This equipment includes things like a drafting table, which will need to be accommodated by sizable office space.
16. Try your hand at affiliate marketing
If you are planning to start a blog, it may be worth your while to look into affiliate marketing. Affiliate marketing, also known as affiliate sales, works when a blogger or website owner is paid a commission when purchases are made through affiliate links. This is a great way for ecommerce websites to earn passive income as they work on their other side hustles.
17. Get paid for your opinion through online surveys
You have likely heard of a friend or a cousin earning cash by completing surveys online. Although it may arouse suspicion, this method of making money is perfectly legitimate—with a catch.
That catch is that not all survey sites are created equal. To ensure that your payment arrives intact and on-time, make sure that you choose a survey site that is reputable and well-rated. If you're in Canada, these top paid survey sites are a good place to start your research.
18. Test websites for an hourly rate
If you are not quite ready to take the plunge into more involved methods of making a side income, one easy way to make money is through testing websites.
Although it may seem too good to be true, it's not. As one of the most important (if not the most important) aspects of a website are how user-friendly it is, it is very valuable for a website owner to pay a site tester to help them spot things that they may have missed. However, like some of the other entries on this list, it is important to do your research before choosing a website to test for. Here is a good list of where you can be paid to test websites.
Pro-tip: watch out for scams
Although the legitimate ways to earn an income online are growing by the day, there are still some traps out there. Before you venture out into the online world, it's best to put in your due diligence. If you're located in Canada, it's a good idea to familiarize yourself with the Canadian Anti-Fraud Centre's guide to common scams (the US equivalent is available here). This way, you can best protect yourself and your assets.
Although working from home may seem intimidating, the pay off can be more than worth the effort—and we're not just talking financial pay-off. Many folks who work from home swear by the comfort of working from home and the ability to make their own schedules and make more time for family members. Working from home is not only a means of earning income but a whole new way of life.
Ready to start your business? Ownr has helped over 100,000 entrepreneurs hit the ground running quickly—and affordably. If you have questions about how to register or incorporate your business, email us at [email protected].
Share This Story, Choose Your Platform!