How to Make Money on Amazon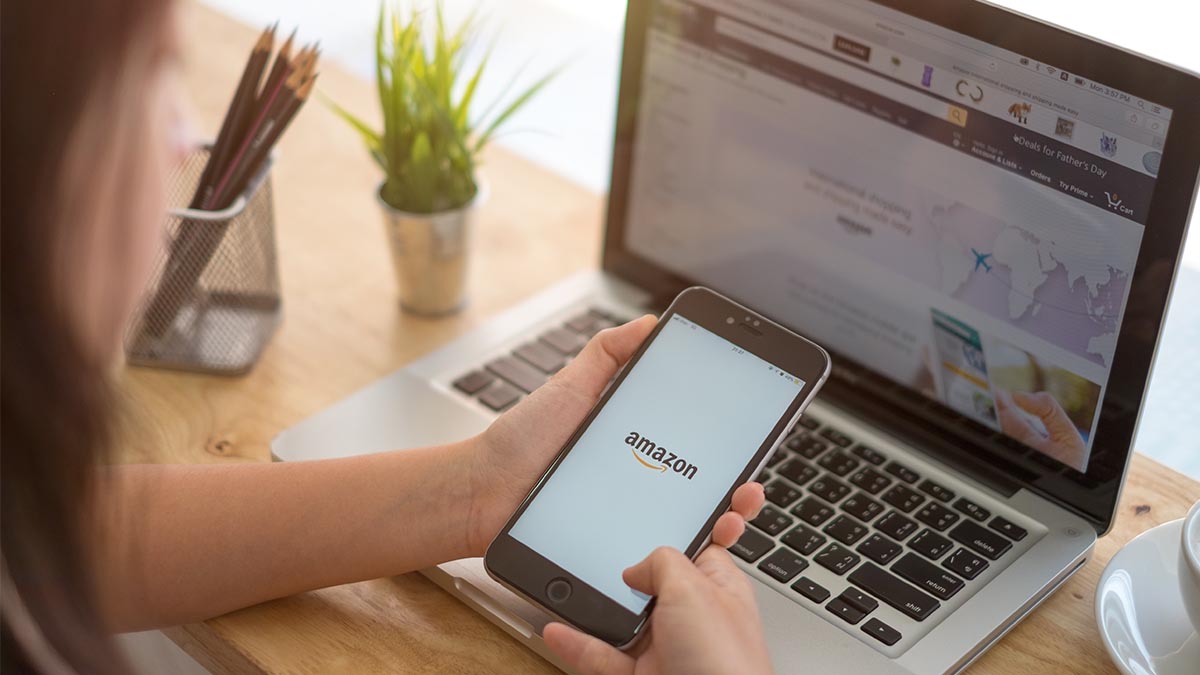 Amazon is a massive online retailer. But while they make a ton of money for themselves, they also help entrepreneurs make money through their platform.
This is great news for you—making money online has never been easier, especially when you have a resource like Amazon backing you up. You can sell your own goods, promote your favourite products from other sellers, or make money on your own terms through one of their programs.
Whatever you want to do in the online space, Amazon might just be able to play a role, so, if you're wondering what Amazon offers as far as ways to make money through their platform, here is your quick-start guide.
Why make money on Amazon?
Amazon is a big player in the online marketplace. With their household name, they dominate the marketplace providing versatile products in almost every niche that you can think of.
For Canadian entrepreneurs, Amazon has made significant expansions to their operations within the country over the past few years. Last year alone, they announced expansions in Vancouver and Toronto.
When it comes to delivering products to Canadian customers, Amazon has warehouses all over the country in Alberta, B.C., Ontario, Manitoba, and Quebec, which helps them uphold their fast Amazon Prime delivery promise.
Whether you're planning on selling goods directly to consumers, using one of their affiliate programs to promote your favourite products or simply want to work at home, Amazon is a partner you can rely on for the foreseeable future.
How to make money on Amazon
Sell products on Amazon
The obvious way to make money on Amazon is through selling goods directly to consumers around the world using their platform. You can open your own storefront and make a profit when you sell popular products.
Amazon covers a variety of products from clothing and accessories to media, electronics, and even auto parts. It's important to note that some product categories require specific approval before you get started, like baby and animal products, dietary supplements, and even some beauty products. So double-check current restrictions before proceeding.
There are two ways to sell on Amazon—as an individual or a professional. Individual sellers pay $0.99 per product to Amazon, along with variable closing fees for media goods (like DVDs, books, and video games). Individual sellers also need to consider Amazon shipping rates.
Professional sellers pay a flat fee of $39.99 per month. They also have more category access, the ability to offer special promotions and are eligible for top placements. It stands to reason if you're planning on making more than 40 sales per month, it might be worth it to become a professional seller.
Sellers also need to be mindful of the Amazon guarantee, which means they could be on hooks for refunds. You'll want to factor that into your pricing strategy before getting started.
Sell private label products
Private or white label products are pre-existing items that you can add your own logo and branding to before selling them to customers. Think of Walmart's "Great Value" or Safeway's "Compliments" brands—these are copies of popular products put out on the market with or without improvements.
These private label products are how many sellers make money on Amazon. They source and manufacture products through a third-party platform like Alibaba or ThomasNet, add their own label and put it on Amazon to sell.
This process can be made even more seamless by using the Fulfillment by Amazon (FBA) network or what many of us know as the Prime program. This means that you won't have to ship your own orders out to customers.
Resell items on Amazon (aka online arbitrage)
Online arbitrage is the process of buying a product from one online retailer and selling it on another for a higher price.
Prices vary by retailer and market, so it's entirely possible that you can purchase a product at a low price from somewhere like eBay or AliExpress and resell it on Amazon for a higher price.
You can make this process easier by dropshipping the products (instead of having them shipped to you). That way, you don't have to do any of the shipping yourself. Plus, there are tools and plugins that can assist you in making this process smooth.
Sell wholesale goods on Amazon
Wholesale goods are another popular method of selling on Amazon.
With this sales method, online retailers purchase bulk quantities of the product they want to sell through the Amazon platform. But instead of following the white labelling process, you don't manufacture or brand the products yourself—you simply sell them as is.
Because it's one of those easy ways to make money online, this method is becoming very competitive. That means that as far as profit goes, it's really become a race to the lowest list price. Your goal is to buy low and sell high (as high as possible), otherwise, you risk not making much money.
Those looking to build their own Amazon empire while being able to work from home might find this to be a great opportunity. You can make it even easier for yourself by setting up Fulfillment by Amazon, so your main job is marketing your store and selling products.
Amazon Handmade
Amazon Handmade is like Etsy, but on Amazon.
This artisans-only program is a perfect way to make money if you handmake unique handcrafted products and gifts, and you want to be able to retail them worldwide.
This program is not for everyone. There is an application process that sellers need to go through to authenticate the items they're going to sell. To become part of the program, you need to:
Register with a professional selling plan—once you're approved, the $39.99 monthly fee is waived for the Amazon seller that uses the handmade program.
Apply for the program
Build your store and custom profile
When you're set-up and ready, you can start selling. You will have to pay a 15 per cent referral fee on all products that you sell.
There are a variety of programs for handmade sellers on Amazon, including artwork, beauty products, pet supplies, and shoes. However, they do not currently support creators of digital products, food items, or electronics.
If you create a store through the Canada site, you will be able to sell products to the USA and Mexico markets. But if you want to sell beyond that, you'll have to apply separately to those markets.
Merch by Amazon
Merch by Amazon is a program built for creators, specifically developers of games. It is an on-demand printing service where you can create items like t-shirts and sell them to your audience with your branding and logos.
This program is used by creators big and small, with some of the bigger names being Disney, Dr. Seuss, and Marvel. Creators upload their design and place it on a product, then Amazon handles the inventory, billing, shipping, and customer service on your behalf.
Products are available to Amazon customers via Prime, meaning they can be delivered fast. And creators earn royalties on each product sold. This program is not open to all, to use Merch by Amazon you need to request an invitation.
Amazon Associates Program
Amazon Associates is their affiliate marketing program. This is where you make money by referring products to your own audience and get a small cut (up to 15 per cent, depending on the product category) when they make a purchase using your specific link.
Pretty much anyone can sign-up and try out the program. You have 180 days to make three qualified sales; otherwise, you need to start over from scratch—which is a real pain if you have a ton of links out there.
This is a great program for the beginner blogger who wants to start monetizing. You can promote everything from books and clothes to home products and tech equipment, whatever works with your content.
The key to making money with Amazon Associates is creating value-added content that resonates with your audience. You don't simply want to promote for the sake of promoting. You're unlikely to build a long-term income that way.
Amazon Influencers
Using the links from the Amazon Associates program is challenging for specific types of audiences. For content creators that use Instagram, Facebook, Twitter or YouTube, they've built the Amazon Influencer Program instead.
Through this Amazon affiliate program, influencers build their Amazon storefront or page where they can showcase their favourite products for their audience to purchase. But just like the Associates Program, you make a small amount of money when someone uses your link to make a purchase.
To be part of the Influencer program, you need to become approved. They are specifically looking for individuals or brands with high follower counts and promote shoppable products.
Amazon's Audible Creator Program
Playing off the idea of affiliate marketing, Amazon has one other program designed for creators. Specifically, podcast or audio product creators (though others could theoretically apply and use the program).
The Audible Creator Program allows affiliates to get $15 USD for each trial membership generated through their unique link. Granted, affiliate links to Amazon's Audible product can also be accessed through the general Amazon affiliate program. However, the payout is much larger directly through the Creator's program.
The other thing that makes this program ideal for audio-based creators over the traditional Associate Program is that they provide easy-to-read links that you can speak into an advertisement, and your audience can type into a search engine— website.ca/my-brand is way easier to remember than website.ca/20xief98xpln.
It should be noted that this affiliate program is only for U.S. audiences. However, Canadian creators can be affiliates if they have U.S. audiences who might find value in the product.
Self-publish books through Amazon Kindle Direct Publishing
Amazon started out as a book retailer before they branched out into retailing other goods. However, books still remain a large part of their overall operations. Only now, instead of simply purchasing books, authors can actually use their services to self-publish their own works.
Amazon Kindle Direct Publishing is a way that authors who are looking to self-publish can get to market fast, not to mention free.
Their literature says that it takes less than 15-minutes to publish a book—granted, you need to write the book, which will definitely take longer than 15 minutes. But once your book is ready, you can set your own prices and earn up to 70 per cent of royalties in Kindle sales. When you hit publish, it will be on the Kindle market worldwide within 48 hours.
While the focus of Kindle Direct Publishing is digital books, those that want to create physical books can use CreateSpace. Audiobooks can be created using ACX where you can hire voice talent and a producer, then publish your books to Audible, Amazon proper and iTunes (Apple Books) to sell them.
Narrate audiobooks through ACX
It's worth mentioning that ACX isn't just for authors to develop audiobooks. It is also a place where voice talent and editors can make money narrating and producing those audiobooks.
Freelance voice talent can sign up for ACX and upload audio samples. With your samples uploaded, you can shop around on the platform and look for narration gigs that fit your skill set and interests. When you find a job that you like, you audition and if they like your work, you accept the offer.
Projects are paid out on a per-finished-hour basis or through sharing royalties with the rights-holder of the piece—you get to decide what you're open to. It's also important to note that in addition to narration, you also need to "produce" the audio material, which essentially means editing the audio—though you can hire a studio professional to help.
ACX presents a unique opportunity for actors, podcasters, and other voice professionals to make a little extra money during their downtime. And you can make a career out of it, or you can use the cash to finance your next big adventure!
Amazon Mechanical Turk
Budding freelancers might be able to dip their toes into the world of gig work with Amazon Mechanical Turk. Also known as MTurk, this program is Amazon's answer to cheap remote labour for companies looking for a quick way to connect with workers.
Consider it Amazon's less robust version of Upwork or Fiverr, where those looking for quick help can access a crowdsourcing marketplace and hire workers fast.
The good news for those dipping their toe into the freelance world or looking for a little extra cash to pad their wallet is that tasks on Mechanical Turk tend not to require a ton of experience or in-depth knowledge. Freelancers can pick up tasks like data validation, research, and transcription, then complete them on their own time with no set schedule.
The downside of getting work through Mechanical Turk is that the jobs don't tend to pay much money compared to those that you might find elsewhere. But this can be a good option for those with a little extra free time who want to supplement their income.
Amazon Home Services
Mechanical Turk is not the only place you can sell your services through Amazon. For those with more specific skills and experience, Amazon Home Services might be a better fit for freelance gigs through the platform.
Amazon Home Services is the company's home installation arm of sorts. It's a marketplace for anyone who needs product installations and assembly or other technical services like home theatre builds. If you happen to be skilled at providing these services, you might be eligible to pick up gigs.
This is not a marketplace for everyone. You really do need to have the skills for the job to make money on Amazon Services. It's also prudent to note that services are performed based on customer requests, so gigs might come in spurts.
Right now, applications for the Amazon Home Services program are temporarily closed. However, you can check back on the website for regular updates when they're ready to open up.
Deliver packages with Amazon Flex
If you're looking for something closer to an in-person opportunity to make money through the platform, but you still want to keep your autonomy and spark that entrepreneurial spirit, then Amazon Flex might be the opportunity for you.
Amazon ships over 2.5 billion packages annually (a number that's likely going up), and those packages have to be delivered by someone. If you happen to have access to a mid-to-large-sized vehicle, a smartphone, and are of the legal age that Amazon requires, then you could very well make a little extra side cash delivering packages through Amazon Flex.
This Amazon program isn't available everywhere. In Canada, it currently only operates in Toronto, Vancouver, Calgary, and Edmonton. But if you happen to be in one of those areas, delivery persons can make an estimated $22 to $27 per hour.
To get started with Amazon Flex, you want to sign up for the app, and you'll need to pass the background check. Once that's out of the way, you can choose a delivery block—the app will tell you when the packages need to be delivered, where you can pick them up and approximately how long the delivery will take.
When the date and time comes, you pick up the packages at the delivery facility as instructed by the app and deliver them to their respective destinations. When everything is confirmed as delivered, you get paid via direct deposit once per week.
Start an Amazon consulting business
Consulting is a great way to make money online. If you have the knowledge to give, especially if it's about building, running or growing a business, chances are there is someone out there that could use your help.
There are a lot of people out there wondering how to make money on Amazon. And if you happen to have skills and experience related to building a mini-Amazon empire, it could be a real opportunity to build a consulting business.
This isn't making money on Amazon per se, it's more of an adjacent adventure. But it does involve the platform and helping people master the skill of selling on Amazon. And, of course, you can absolutely make money doing it.
Consultants provide advice and strategy when it comes to things like product research and sourcing, give advice on how to sell, make a profit and marketing an Amazon store. Your target clients will be those that want to make money on Amazon themselves.
Starting a consulting business can seem like a big feat, but you can start easy by offering your services through Upwork or Fiverr. Ultimately, you will fetch a higher price going off the platform, building your own website, and seeking out clients on your own.
Other ways to make money with Amazon
Take a virtual job with Amazon
Work-from-home is the new 9-to-5, and you can do it directly through Amazon.
Getting a role with Amazon's virtual team isn't exactly an entrepreneurial activity—unless you happen to score a freelance or contract-type role—but it's still a genuine opportunity to make money. Perhaps it can even help fund your next venture?
Amazon offers work-from-home positions around the world. These positions do tend to be location-specific, and some of them require travel and other activities. But it could make for a good opportunity if you're looking for more structure or a steady paycheck while you get your side gig off the ground.
These jobs are available in most of Amazon's departments, including customer service, marketing, and operations. If you're interested, you'll need to keep an eye open for Canada-based positions that work for you.
Trade-in used goods
Do you have used items that you no longer want or use?
Gadgets? Phones? Books? You might be surprised to know that the Amazon Trade-in program allows you to trade in certain eligible goods for Amazon gift cards. Granted, gift cards are not the same thing as cold-hard cash, but they still allow you to purchase other Amazon products and save the cash that you would have spent.
Not everything is eligible for the trade-in program—your dogs playing poker print will have to go in next summer's garage sale. They are looking for products like Kindles, tablets, and gaming equipment. You can find a full picture of what they're looking for by visiting the storefront.
This is less of a money-making opportunity and more of a saving one. But, at the end of the day, you end up with more cash in your pocket.
Work at an Amazon fulfilment centre
Again, working at an Amazon fulfilment centre isn't exactly an entrepreneurial activity. But it is a way to get the cash flowing into your bank account, especially if you're looking to get working right away because they always seem to be working.
Amazon warehouse team members are the ones that pick, pack, store, and ship products from the local or regional fulfilment centre so they can end up in the hands of the end consumer. Warehouse associates earn a minimum of $15 per hour, and they get benefits.
For this position, you will have to be located in a city that has a fulfilment centre in it. But it could be a great gig for someone looking for a more reliable, steady paycheck.
Write product reviews with Amazon Vine
Amazon Vine is an invitation-only program where participants write informative reviews on Amazon products they've used. "Vine Voices" receive free products that have been submitted to the program for their honest review.
Now, this program is also not something that can help when it comes to money-making. But if you're an avid reviewer and you like to get free products, then it might be a money-adjacent project for you. Plus, you can brush up on your writing skills and consider becoming a freelance writer that specializes in product reviews!
The best way to get invited to the program is by writing helpful, detailed reviews of Amazon products that you purchase. Active review writers whose contributions help others make purchases are usually the first to get invited into the program.
Should you make money with Amazon?
Making money with Amazon isn't the right opportunity for everyone, but it very well could be for you. If you have an entrepreneurial spirit and the desire to retail products, Amazon has a storefront that's viewed by more customers than you could even dream about on a daily basis. Likewise, they have opportunities for creators and those simply looking for opportunities to make money on their own terms.
There's truly a way to make money on Amazon for anyone interested in putting the work in to make it happen. But before you open your storefront, start selling your next hit book, or recording your voice, it's important to figure out what business structure you need to set up to get going.
Ready to start your business? Ownr has helped over 100,000 entrepreneurs hit the ground running quickly—and affordably. If you have questions about how to register or incorporate your business, email us at [email protected].
Share This Story, Choose Your Platform!