How to Sell Your Art Online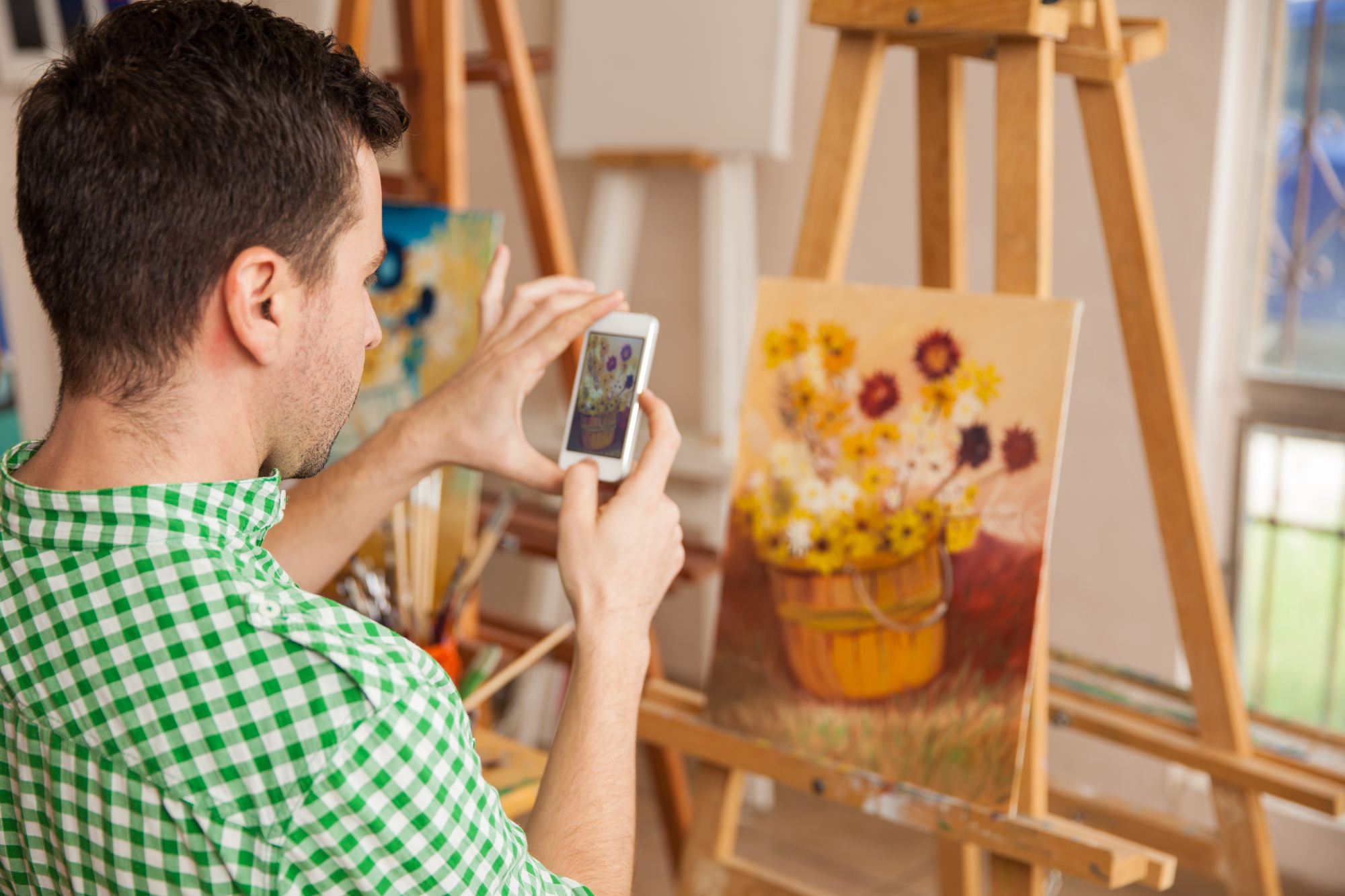 In times gone by, artists needed to have partnerships with art galleries or agents in order to have their work discovered and bought. With the arrival of online marketplaces and new printing technologies, however, selling art has become a viable business idea for all kinds of people, including parents, kids, or anyone who wants to start a product-based business.
In this article, we'll look at the different types of art you can sell, how to set up your business, and some of the most popular marketplaces and website platforms for artists. Whether you're new to art and wondering how to make your passion into a career, or you're a professional artist without an online shop, we'll help you understand all the ins and outs of starting a home business selling art online.
What type of art are you going to sell?
As an artist, you probably already have an idea of where your skills lie in terms of your preferred mediums and subject. What you may not have considered are some of the other important decisions you'll need to make when choosing what kind of art to sell. You don't have to be an artist in order to start a successful online art gallery. You could work as an art consultant and represent living artists, you could sell reproductions of famous artworks (as long as they're in the public domain), or you can sell your own artwork. Then you have to decide whether you want to sell originals, prints, or both.
Selling your own work vs selling art by other artists
The benefit to selling your own artwork is that you get to keep 100 per cent of the retail price rather than having to give a large percentage of every sale to a gallery or agent. However, the downside is that you don't know whether people will be interested in buying your art, and it may take some time to build up interest and a customer base for your business.
If you're selling work by an established artist with a built-in demand for their work, their reputation can help bring fresh eyes to your business. However, you'll only earn a percentage of the list price, since most of the money will go to the artist.
Selling original artwork vs selling reproductions
The advantage of selling an original artwork is it can be priced higher than a print, since it is more exclusive and unique. On the flip side, what makes selling prints ideal is they can be endlessly reproduced, are relatively inexpensive to create, and are more affordable to consumers. Turning an original artwork into an art print will probably require hiring a professional photographer or paying to have your work scanned at a high resolution. You'll also have to deal with finding a print shop to source your products from.
Where to sell your art
If you want to sell your art online, there are several approaches that you can take. The main options are to create your own online store, sell print on demand products through a supplier, or sell your work through an online marketplace. You don't have to limit yourself to just one online platform, but it is a good idea to start out with one and add more as you grow.
Selling through your own online store
The most common way to create your own online art store is by using a website builder. This way, your store will also double as an art portfolio and give interested buyers a way to get in touch with you. In order for customers to find your online store, make sure you're using relevant keywords throughout your website to boost your Search Engine Optimization (SEO).
So many artists use a website builder because it allows you to create a professional website that suits your unique brand—all in a matter of minutes. You also control the layout of your eCommerce store, so your artwork won't be competing for attention with other artists like it might in a gallery space.
By creating your own eCommerce store, you can accept a variety of payment methods. Plus, most website builders offer a free trial so you can test it out before you commit. Several products will also host your website for no additional cost, but you can also level up by purchasing a custom domain name and connecting it through your website builder. 
Some art galleries may take a commission of up to 50 per cent for work sold through them. Most website builders take no commission on the sales you make through your online store.
These are just some of the many reasons for you to consider selling your art using your own online store.
Top 5 website platforms for artists
These days, the availability of website builders means you can create a fully customized website without having to fork over thousands of dollars to get it designed from scratch. Using website templates, you simply drag and drop your content and it is automatically optimized for both desktop and mobile use.
Here are some of the most highly recommended website builders for artists, along with a quick overview of what they offer.
With over 500 customizable website templates, you can create your own online store or choose to get a free website designed for you through Wix. Their eCommerce plans include advanced features like blogging capabilities and online appointment bookings. They will automatically optimize your website for mobile use. But just to be sure, switch to the mobile editor to preview your site and manually adjust as you see fit.
Wix also has an online logo maker where you can design your own business branding. Your plan will include a personalized SEO plan, customer management tools, and email marketing, to name just a few of the many features available.
Squarespace boasts industry-leading, award-winning templates, designer fonts, and endless customization and add-on tools. They include a free custom domain name for the first year of your plan with them, as well as access to hundreds of colours and stock photos to use at no extra charge.
Squarespace has a number of third party extensions available to optimize your site, as well as an online logo maker. With this website platform, you can create branded social media content and email campaigns using your logo, products, and posts.
With over 6,000 apps available to add additional features and functionality to your site, it's easy to see why over 1.7 million businesses use Shopify worldwide. Shopify's dashboard gives you an overview of your business insights, pending orders, and payments received. It also hooks up to a point of sale system to accept payments in person. Shopify offers several pricing plans to suit your marketing needs and budget. You can even choose to hire a Shopify expert to design your website for you.
Not only does HostGator allow you to create a fully customized site in mere minutes, you can also answer a few basic questions and their Artificial Intelligence (AI) software will create your website for you, no drag and drop required. HostGator offers an online logo maker, industry-specific website designs, and optimized layouts. Your ecommerce shop will include tools for inventory management, shipping, and taxes. Plus, you'll have access to email marketing tools like automated emails, integrated lead capture forms, and landing pages. If that weren't enough, you'll be able to use their scheduling and calendar tool to book appointments, and you'll have free access to stock images provided by Unsplash.
GoDaddy is a website builder that offers a functional website, online store, appointment management, and email marketing all in one convenient place. They'll provide access to personalized analytics so you can gain insight into what's working and what isn't, with no tech knowledge required on your part.
GoDaddy's website templates will show your work in the best light, no matter what your art business or aesthetic is. You can track your inventory and accept flexible payment options online. Other features include managing your SEO, email marketing, and social media platforms, all from your GoDaddy account. Best of all, they offer a one month free trial.
Selling through a supplier
One of the main reasons that a professional artist might sell their work using print on demand instead of creating and running their own online art store is there is a much lower risk with print on demand (POD). Since everything is printed to order, you don't have to pay for inventory, storage, or an online store.
With print-on-demand products, you upload your designs to a supplier or company like Fine Art America and edit the placement of your artwork on the products you want to make available. When someone makes an order, the POD company creates the products, packages it, and ships it directly to the buyer. This means you never actually come into contact with the products you are selling. While it results in significantly less work for you, it also limits your ability to include promotional material with your orders. 
Since the print-on-demand company does most of the work, you'll end up making a set percentage of the purchase, with the majority going to your supplier. While you'll make less money per product sold than you would if you purchased in bulk, you won't have to deal with the added costs and potential risk of holding inventory. 
Selling through a marketplace
There are plenty of online platforms that come equipped with a built-in network of customers, and selling your artwork through a marketplace gives you access to that audience. Create an account with your marketplace of choice, list your products, and set up your delivery methods and payments. While it's quite straightforward to set up a profile on an online marketplace, you'll also be competing with other sellers worldwide, which can make it difficult to get noticed. Your profile will look similar to everyone else's, so you'll have to make yourself stand out in other ways. 
Top marketplaces to sell art online
Here are three of the best marketplaces to sell your art online. 
Perhaps the most well-known online marketplace for independent artists, Etsy brings together creators and art lovers from all around the world. Each item you list on your Etsy profile will cost you $0.24, with no additional fees unless you make a sale. Etsy offers tools to help you manage, promote, and grow your business, along with their Seller Handbook, which is full of awesome tips to help you run a successful Etsy business. You can update your store and manage orders from anywhere using the Sell on Etsy mobile app. The site even lets you create your own custom website that is powered by your Etsy shop.
Artsy is different from most of the more accessible online art marketplaces, because they are only interested in selling art by artists who have an established demand and resale market. You're not allowed to sell your own artwork on Artsy, so this marketplace is only for people who want to sell art by other artists, provided there is a sufficient interest for it in the market.
With no upfront fees, you'll submit the artwork for review and approval, and if it is accepted, you'll receive consignment offers from various auction houses and galleries. Artsy's specialists will help match you with a seller who is a good fit, and you'll keep your art until it gets sold. 
Unlike the traditional 50 per cent commission charged by most traditional art galleries, Saatchi Art allows you to create a free account with no fees, and you'll make 65 per cent for every artwork you sell. Their Art Advisory service provides personal art recommendations to their collectors. You'll also have the potential to be featured on their social media, in their editorial features, and in their printed catalog delivered to over one million households. Saatchi also provides access to public relations support and a number of online resources for artists. You don't even have to worry about shipping your art—simply take care of the packaging and they will send a courier to pick it up. Saatchi is also an extremely accessible online art marketplace, where all emerging artists aged 18 and older are eligible to sell their work.
Now that you know everything there is to know about selling art online, it's time to use this information to get started on your brand new art business.
Ready to start your business? Ownr has helped over 100,000 entrepreneurs hit the ground running quickly—and affordably. If you have questions about how to register or incorporate your business, email us at [email protected].
Share This Story, Choose Your Platform!