How to Get a Master Business Licence in Ontario
You've come up with a great business idea and are ready to start putting it into action in Ontario. Congratulations! 
As an entrepreneur, your next step should be to apply for a business name registration for a sole proprietorship. You might know this document by its previous name, the Master Business Licence (MBL).

This name change is part of Ontario's recent updates to its business registration, but the contents of a business name registration are the same as those of a master business license.
While there are plenty of important things to think about as a new business owner, from landing your first clients to opening up a bank account and setting up your POS systems, it's important to ensure that your business is operating legally from the beginning—business name registration is a key step.
What is an Ontario master business licence?
A master business licence is a type of Ontario business licence that lists your business name, address, business number, and a brief description of your business activities. An MBL will also state the type of business you have, such as sole proprietorship, limited liability partnership, or extra-provincial limited liability partnership. 
The two most common business structures that require a master business licence to operate are sole proprietorships and partnerships. If your business falls under one of these structures, a master business licence serves as your business name registration with the provincial government and provides you with a unique registration number called a Business Identification Number (BIN) that identifies your business.
It's important to note that your BIN is distinct from your business number (BN). BINs are issued by the Government of Ontario and are used by the Ontario Ministry of Consumer and Business Services to identify provincial business accounts. Your unique BIN is issued when you register your business in Ontario.

Conversely, BNs are a nine-digit numbr issued by the Canada Revenue Agency (CRA) that gives businesses access to federal government program accounts, such as import/export numbers and payroll. 
Do I need a master business licence?
Whether you need to register for a master business licence will depend primarily on your business structure. If you are registering a sole proprietorship or partnership, and you wish to do business under a name other than your full name, or the full names of the partners involved, you'll need a master business licence to do so.
For example, if your name is John Smith and you wish to do business simply as John Smith, you don't need to register your business. However, if you plan to do business as something like John Smith Professional Organizing, you'll have to register for a master business licence. 
If you are planning to incorporate your business instead of registering a sole proprietorship, you typically won't need a master business licence. However, there are some exceptions to this rule that are worth noting. If you incorporate but you want your corporation to do business under some name other than the corporate name, such as a trade or brand name, you'll need a master business licence to do so. 
For new entrepreneurs, the most common scenario requiring a master business licence is when setting up a sole proprietorship.
What does a master business licence provide? 
Once you've submitted your registration and obtained a master business licence, you are granted the following: 
Registration with the Province of Ontario for five years, after which time you have to reapply

A business name registration document that gives you the legal right to operate under your business name within Ontario

The ability to open a business bank account under the name that you registered

The right to advertise under the business name that you registered and to promote your business name on marketing materials such as business cards
When your application is processed, you'll receive a document that looks like this: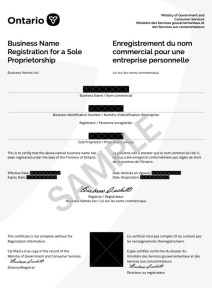 Before the recent update, this is what you would have received: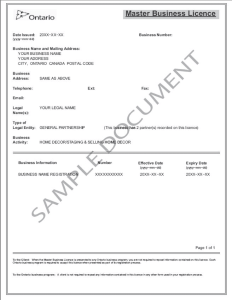 As you can see, the general information contained in the new business name registration for a sole proprietorship is generally the same as the master business license. 
One improvement is that the number issued to each business is now listed as the "business identification number", making it easier to distinguish between this and the federally issued business number. 
What are some limitations of a master business licence?
A master business licence, while important, is limited in terms of the protections it offers your business. 
Here are some limitations of business name registrations:
There can't be name protection against other businesses in Ontario operating under a similar or identical name

Sole proprietors do not have liability coverage

They also don't have access to corporate tax advantages

There is limited ability to make changes to your registration
These are some of the reasons entrepreneurs choose to incorporate their business, even as a single-person corporation. 
If your business exposes you to a high degree of risk for personal liability, you might want to consider incorporating rather than obtaining a master business licence. A corporation is a separate legal entity, meaning the liabilities and debts incurred by the corporation are not automatically yours. 
For many types of businesses, registering as a sole proprietor is a great place to start. Later down the road, you may choose to incorporate for the extra benefits.
What is the application process for a master business licence?
Registering online is fast and easy with Ownr. You can also complete your business registration online, by mail, or in person at a Service Ontario location. 
Keep in mind that if you choose to register by mail, the processing times for your licence to be mailed to you may be longer.
Can anyone register for a master business licence?
The registration requirements for a master business licence leave it open to most adults in Ontario. 
As long as you are 18 or older, you can likely register for a master business licence in Ontario. Unlike incorporation, you don't have to be a permanent resident or citizen yet to register. 
If you are not sure if your immigration status qualifies you to apply, it's best to check with Immigration Canada.
How much does it cost to get a master business licence?
Before registering, you may also want to generate a NUANS report to see if someone already registered another business under your name. This search report lets you know what other business names or trademarks are registered that are similar to your own. 
Registering your business through Ownr costs just $49,  and gives you access unlimited business name searches, which may be valuable if your first choice of name has already been taken. 
If you choose to go with a different registration option, NUANS reports can cost between $8 and $26 depending on the records you include in your search. This is on top of the filing fees.
Registering your sole proprietorship online with the government has a $60 filing fee while registering in person or by mail through Service Ontario costs $80.
How to cancel a master business licence
You can amend or cancel a business registration at a Service Ontario location, by mail, or online by using your Ontario One Key login. If you don't have this login, you can request a company key online.
If you decide to change your business name, you'll need to cancel your previous master business licence and register for a new one. 
If you close your business, you should also cancel the associated business licence. It's recommended you also advise the Canada Revenue Agency of the cancellation so that the abrupt end in your business activity doesn't trigger an audit. 
How do I renew my Ontario master business licence?
Your master business licence will be valid for 5 years, at which point you have to renew it. If you forget to renew your master business license, there is a 60-day grace period after expiration to do so. After that, you'll have to register as if it were a new business.
The easiest way to renew your Ontario MBL is through Service Ontario's online portal. You can also call Service Ontario or submit the Renew a Registration form by mail or email. 
How do I get a copy of my master business license in Ontario?
If you lose your MBL and just need to know your BIN, you can log in to the Ontario Business Registry to identify it.
You can also obtain a copy of your master business license by contacting Service Ontario by phone or email, or by signing in to the same online portal through which you first registered.  
Note that if you obtained an MBL before October 2021, your business info has been migrated to the new system. You'll have to get a company key to log in for the first time. If you're registering your business any time after October 2021, you'll be issued this company key when you register. 
Getting a master business licence is an easy and important step for many new businesses. By making sure you register your licence from the beginning, you can feel confident that you are operating your business legally and that everything is above board, giving you the peace of mind to focus on growing your business. 
Ready to start your business? Ownr has helped over 100,000 entrepreneurs hit the ground running quickly—and affordably. If you have questions about how to register or incorporate your business, email us at [email protected].
Share This Story, Choose Your Platform!