11 Online Marketplaces to Sell Your Products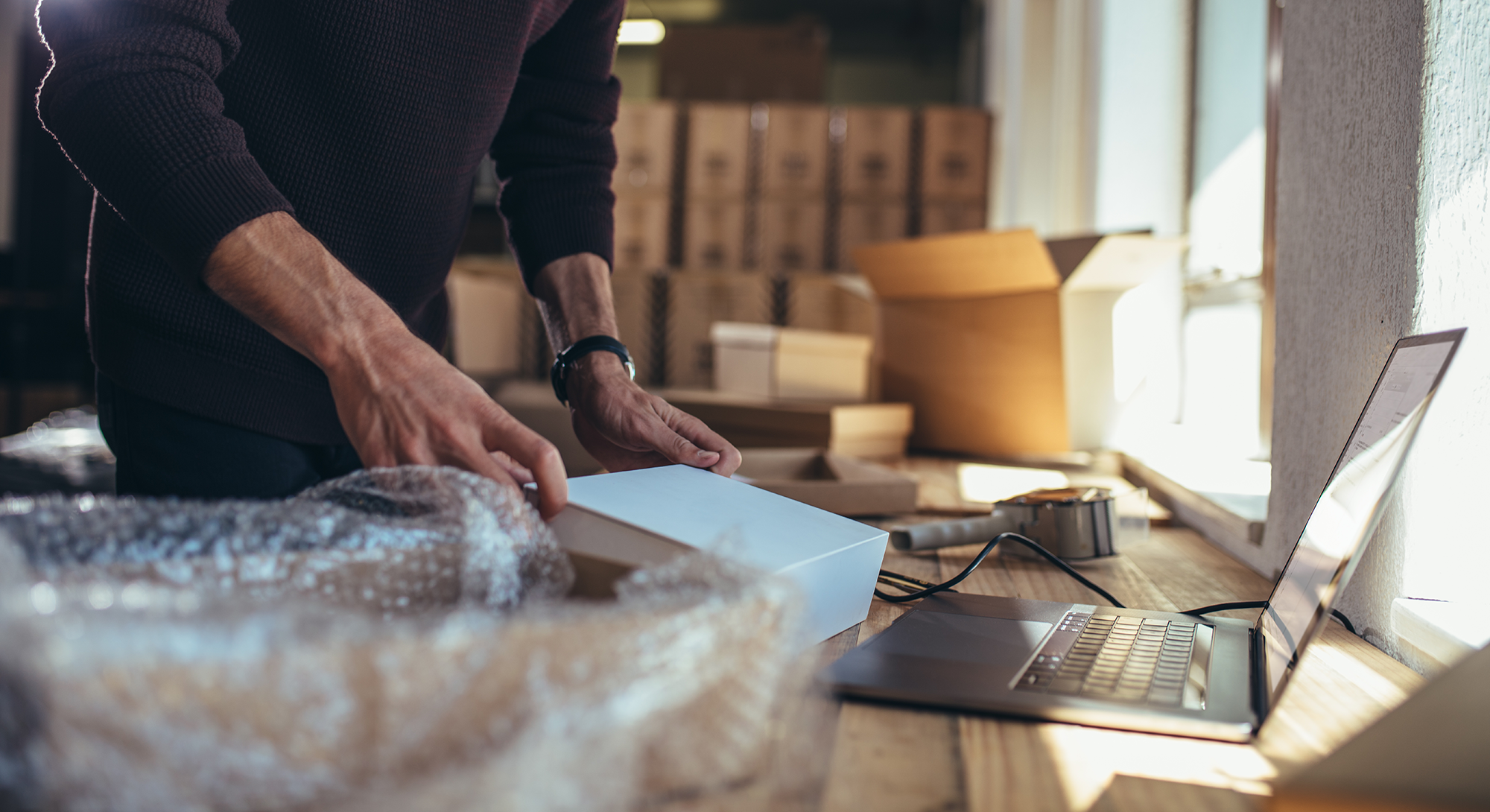 With the internet, it's so much easier for entrepreneurs to sell their products. Places like Amazon and Etsy offer near-limitless access to potential markets, both in North America and across the globe. The need to open a brick-and-mortar shop is not necessarily an essential part of selling your products anymore. 
Starting a new venture is exciting and with over half of the global population now actively online, your customer base is virtually limitless. Whether you're a creative soul wanting to sell handmade candles or quirky fingerless mittens, or are contemplating a wholesale distribution of graphic print t-shirts, there's a market for your product. But which one is the right online platform for you?
Do your research before starting an online business
Maybe you're already started your online business, or maybe you just have an idea and are doing some preliminary research. Starting an online business can be exciting, but also daunting. You are your own boss and you call the shots. But the fact that there are so many online marketplaces can be a bit confusing. 
This is why it's important to do your research first. We can't say enough about the importance of thoroughly researching your online business, understand your niche market. You probably already have a sense of what that is (quirky fingerless mittens, anyone?), but also conduct market research. How popular are fingerless mittens? What product category would these fit into? Are they a passing fad or are they a staple that's here to stay? 
Market research can also help determine demand. If there isn't a huge demand for your products, you may have a hard time finding a customer base. Determining demand helps with sales forecasts, which helps you budget.
Analyzing your competition is also a big part of doing your research. If the competition is stiff, that can drive the prices down, which might make it harder for you to turn a profit. But that doesn't mean you can't capture your share of the market. Maybe you need to offer something unique about your product that isn't available in the current market. There might be a lot of equally quirky fingerless mitten sellers online, but are they made with organic and ethically sourced materials like yours?
Competitor research involves four basic steps, called a SWOT analysis. A SWOT analysis measures the Strengths, Weaknesses, Opportunities, and Threats for your business. 
What is an online marketplace?
If you're just starting out, you may wonder what an online marketplace is. Basically, an online marketplace is an ecommerce website that offers a variety of products from different retailers. These retailers can be a sole proprietor selling handmade products, or they can be larger distributors. 
The online marketplace business is vast. There are over 100 online marketplaces worldwide, meaning your customers might be anywhere. That can be both beneficial and daunting. Again, it's important to do your research. Browse some online marketplaces to find out which is the best for your product. (We've done the legwork for you and listed 11 of the most popular ones below!) 
3 reasons to sell on an online marketplace
Despite how overwhelming the online marketplace business may seem, there are some significant benefits to selling your wares online. 
1. Up and running in no time
Basically, an online marketplace means you don't have to wait for a store opening to start selling your products. Most online marketplaces let you start selling with a click of a mouse. 
If selling online is new to you, these online marketplaces can really help build your brand. Most online marketplaces require approval to start selling, but once you have that approval, you can sell as a third-party seller or add your online shop directly on their website, such as Etsy. 
2. Programs are already established
Most of the biggest online marketplaces already have established selling programs. This means most of the legwork is already done for you as far as navigating the online marketplace platform. Many sites have a plethora of tools to help you to get your products listed, including shipping options with shipping rates already included. How's that for easy?
3. Established customer base
Probably the most important and beneficial part of an online marketplace is there's a pre-established customer base. You don't need to go hunting. Places like Amazon, eBay, and Etsy already have millions of active users. In fact, most online retailers don't have a brick-and-mortar store, and 56% of all product searches are now conducted (and often end) on Amazon. 
Top 11 online marketplaces
Now that you've got a general idea of what online marketplaces are and how they work, let's look at 11 of the top sites where you can sell your products. 
1. Amazon
Amazon is  ubiquitous among the online marketplace retailers and leverages the largest customer base, with over 310 million active users and 90 million Prime members. That's a lot of customers! 
Amazon is a retail outlet with 19 global sites. This means world-wide exposure for you and your products. The unique part of Amazon is that it offers Fulfilment By Amazon or FBA. This allows online retailers to send their products directly to an Amazon warehouse, allowing them to handle all the nitty gritty, like shipping and customer service.
Amazon offers a monthly fee of $29.99 CAD per month for a professional seller's account. For individual sellers, the fee is $1.49 CAD per item sold. 
2. eBay
eBay is also one of the largest online marketplaces out there and is one of Amazon's main competitors. However, it's possible to sell your products on both websites. eBay boasts 23 international sites and services over 100 countries. That's some hefty selling power!
The unique part of eBay that Amazon doesn't offer is the auction house business model. Besides a regular online marketplace, with items purchased with the click of a button, eBay users can also participate in auctions where they bid on products. Some of these items are unique, like cars and valuable jewellery and antiques, which is a major difference between eBay and Amazon. Despite this, around 80% of the products sold on eBay are actually new items from retailers like you. 
While there is no monthly fee to sell on eBay, there is a seller fee when you sell an item, either through auction or fixed-price sale. This is called a final value fee, which is usually around 10 to 12 per cent.
3. Walmart
In recent years, Walmart has gone in on the online marketplace action by offering their platform to independent retailers alongside Walmart goods. And they've got the users, with over 385 million visits in 2020. That's a lot of leverage!
Previously, Walmart only offered online marketplaces in the US, China, Canada, and the U.K. But in recent years, they've started offering their platform to international sellers with Walmart's pre-approval. For sellers outside the US, Canada, China, and the U.K., there are strict requirements, including:
Brand names

Proven customer service

A large variety of products

Reliably fulfills orders

Competitive prices

Are able to accept international returns
To get started with Walmart's online marketplace, there is no monthly fee, but like eBay, there is a seller fee, which is between eight and 15 per cent commission. 
4. Facebook Marketplace
Facebook isn't just a social media platform, they also leverage on their whopping 2.8 billion users to allow ecommerce stores to sell their products on Facebook Marketplace. The best part? It's free!
Being the largest platform of all the online marketplace platforms, you might think your business can get lost among those 2.8 billion users, but there is an option to list your products locally, narrowing your customer base. However, this removes the opportunity to sell internationally. But for those retailers looking to get started, this might be the perfect option. 
Facebook Marketplace offers anything from real estate, boats, vehicles, and antiques, to scented candles, flowers, and custom-made furniture. Facebook Marketplace also offers a retail ecommerce inventory system, but this is only available to US sellers for the time being. 
5. Faire
Faire made their debut in the online marketplace community in 2017 with a mission to "help independent entrepreneurs chase their dreams, from the artisan candlemaker hoping to grow her business to the enterprising shopkeeper stocking his shelves with unique goods for his community." Since then, Faire has grown to connect over 170,000 local retailers with thousands of emerging brands. 
Faire is an online wholesale marketplace that connects small business owners and independent brands with wholesale product suppliers. They promote the shop local movement and have locations in Canada and the U.S. Faire offers a 60-day turnaround time between product purchase and delivery, and caters to brick-and-mortar locations. They also have no-fee net 60-day payment terms, ranging from $5,000 and up. 
6. iCraft
iCraft is another new online marketplace based out of Toronto that caters to creative retailers who sell handmade art, crafts, and clothing and accessories. The caveat is that everything has to be handmade. 
To get started on iCraft, you'll need to register your business on their website, selecting the "sell" option. To register, you must have a unique store name. If you've already registered your business, you most likely will already have a unique business name. For payment, iCraft uses PayPal, where you pay your one-time registration fee to iCraft. The site also offers bulk product import for sellers on other marketplaces like Etsy and eBay. 
7. Alibaba
Alibaba is a B2B (business-to-business) ecommerce platform that offers wholesale products distributed around the world. Business owners can either list their wholesale goods for sale on their platform, or small businesses can purchase wholesale products to stock their stores. 
Alibaba deals with distributors internationally and offers two basic plans: basic and premium. Both plans offer mini-site creation, unlimited product posting online, transactions directly on the platform, sales data and reporting, and industry insights. The price is quoted yearly and paid in two installments, although the over $2,000 per year minimum might be an initial barrier to some small business owners. 
8. Etsy
Etsy is a popular online marketplace for just about anything creative, handmade, custom, or vintage. It offers shoppers the options of shopping locally, and sellers can create a mini-site directly on Etsy, saving them the hassle of creating a separate website. 
Etsy now boasts millions of shoppers with billions of dollars spent online and is a fast-growing online marketplace. When you sell an item, there's a 5 per cent transaction fee and a processing fee. These costs are offset by Etsy looking after the payment processing directly on the site. The funds are then automatically deposited into the account you have linked to your Etsy online store. 
Etsy also offers the option of using their advertising program, which is risk free. Etsy promotes your products and you only have to pay a fee when you sell an item from the ad. 
9. Overstock
Overstock has been around for over 20 years, and initially sold only surplus and returned merchandise, and provided liquidation of inventories from unsuccessful companies. They have expanded their business model to offer new merchandise. 
With over 30 million visitors per month, Overstock is unique in that it also accepts payment in Bitcoin. To get started as a seller with Overstock, you'll need to fill out their Partners Page, which is broken into three sections: organization information; product information; and comments. From there, it takes two-to-three business days for approval. Once approved, you're invited to create a seller account where you upload your products on Overstock. 
There's a listing fee similar to eBay. Overstock also takes a commission on items sold. 
10. Craigslist
Craigslist is one of the first online marketplaces to exist and is pretty much the bare bones of online selling. It's fairly straightforward as far as usability goes, but while it's simple to use, it lacks visual appeal. 
If you're trying to build a brand identity and authority, Craigslist may not be the way to go. However, virtually anyone can sell almost anything on Craigslist, from used and unique to new and wholesale items. 
Craigslist is location-oriented, meaning you have to select your location (city preferably) in order to narrow your search results. If you're a seller who ships nationally or internationally, this may mean selecting more than one location. Once you've done that, you can post a classified ad, making sure to upload a clear picture and full description. The nice part about Craigslist is that they have both "for sale by dealer" and "for sale by owner" selection, so you can identify yourself as a dealer.
Craigslist charges a posting fee for some goods and services, which typically ranges from $3 and $5. One caveat: be wary of scams and fraud. For more information, Craigslist has more information here.
11. Kijiji
Kijiji is another one of those tried, tested, and true online marketplaces. Kijiji also now has a dedicated Business Solutions portal, which caters to businesses and retailers like you. This portal is designed for larger inventories, gives performance reports, and has ads packages and listing fee structures. 
Kijiji doesn't have standard plans for businesses but rather encourages businesses to create a customized plan with ads and performance listings. 
Getting started with your online business
Starting or expanding your business to an online marketplace is an exciting step. There are so many options available. But we're here to help you, every step of the way, from registering your business to providing the information you need to build and grow your dream. 
Ready to start your business? Ownr has helped over 100,000 entrepreneurs hit the ground running quickly—and affordably. If you have questions about how to register or incorporate your business, email us at [email protected].
Share This Story, Choose Your Platform!