What is Entrepreneurship? How to Become an Entrepreneur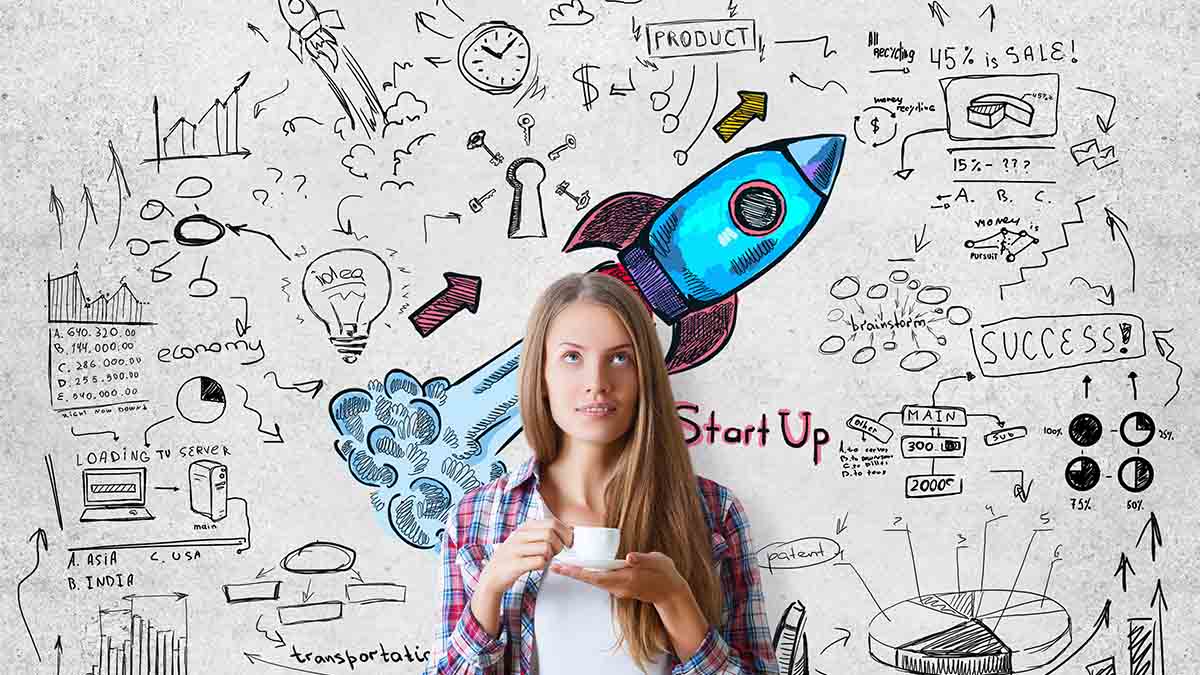 With the rise of technology and increased access to capital for entrepreneurs of all types, entrepreneurship is becoming the career path of choice for many. The role of an entrepreneur continues to evolve and, as of 2020, there were 582 million entrepreneurs around the world, with 62 per cent of people agreeing that entrepreneurship is a good career. From small businesses to international companies, entrepreneurship is essential for keeping Canada's economy healthy and balanced.
So, what does it take to be an entrepreneur, and how can you become one? What is the impact of entrepreneurship on society, and why is this role so important? We've created a comprehensive introduction to entrepreneurship that covers the skills, steps, and basic business resources you'll need to become an entrepreneur. We've also included testimonials and business advice from successful entrepreneurs to help you better understand the important role of an entrepreneur.
What is the definition of entrepreneurship?
The basic definition of entrepreneurship is the act of starting a business with the intention of turning a profit. However, in our modern age, the concept of entrepreneurship has expanded to include the act of transforming the world by solving large-scale problems. With the advent of the internet, entrepreneurship has the power to create social change through the creation of a service or product that affects individuals in positive ways and addresses social issues with innovative ideas. 
Entrepreneurship is also an opportunity for self-motivated individuals to create their own career path and income, working for themselves to develop goods or services that people want or need. It's a risky approach to making a living, but it can result in amazing rewards and lasting success.
What is an entrepreneur?
While there are a few different ideas about what exactly an entrepreneur is, but the general consensus is it refers to an individual who creates a business with the goal of turning a profit. Entrepreneurs come up with an idea for a good or service and package it to sell to consumers. Entrepreneurs can also improve upon an existing good or service and sell it as a better alternative to consumers in the market.
Some entrepreneurs end up falling into entrepreneurship by accident, where their side hustle becomes their full-time gig, such as a photographer who transitions from doing photography on the side to starting a full-fledged photography business. Other entrepreneurs dive right into entrepreneurship as their primary source of income, such as the owner of an independent retail business or an online shop.
Regardless of how you come into entrepreneurship, entrepreneurs are an important part of our economy and our society. Without entrepreneurs, we probably wouldn't have a lot of innovative products and services we use today.
What are the 4 types of entrepreneurship?
There are many different ways to define entrepreneurship, but your business will likely fit into one of these four main categories. 
1. Small business
A small business is when the owner is also in charge of operations, including hiring employees. Their goal is usually to make a profit, and many small business owners fund their own businesses or rely on small business grants, loans, or crowdfunding.
Your entrepreneur life starts now
Launch your dream business the right way. Get our free checklist for new entrepreneurs.

2. Scalable startup
A scalable startup is specifically designed to attract high-value investments with a vision that could change the world. They aim to create a business model that can be easily duplicated and scaled, given the right funding.
3. Large company
Large companies that are entrepreneurial often introduce innovative products that complement their main offering while staying up-to-date with new technologies and competition in their niche. Large companies may attempt to reach new markets by acquiring smaller companies with existing customers.
4. Social entrepreneurship
What makes social entrepreneurship unique is its focus on making the world a better place by solving social issues. A social entrepreneurship business can be a nonprofit, for profit, or a hybrid of the two.
Why become an entrepreneur?
If you're feeling stuck in your current career and are looking for a major change, then becoming an entrepreneur may appeal to you. Or you might have an amazing idea that you want to try to turn into a viable business. There are lots of perks to being an entrepreneur, including:
Be your own boss
You may find entrepreneurship appealing because it gives you the ability to turn a profit on your own terms, for a business that's all yours. Maybe you're tired of working for others and want to strike out on your own, or you're struggling to find employment. Many people are drawn to entrepreneurship because they are self-motivated and want to be independent when it comes to earning a living.
Create a new product or service
Becoming an entrepreneur gives you the freedom to build a product or service from scratch, turning an original idea into a viable business. Though becoming an entrepreneur will not always be easy, and comes with many risks. Taking on this role will give you the opportunity to create something new in the marketplace. 
Build your own schedule and work from anywhere
Many entrepreneurs are drawn to a lifestyle where they can work flexible hours and not have to adhere to someone else's schedule. Keep in mind that many entrepreneurs end up working more hours to get their business going, but this may be worth it if you're working for yourself and building a business that you believe in. Being an entrepreneur also means you can work from home or travel and work.
What are the characteristics and key skills of an entrepreneur?
Though there are different ways to become an entrepreneur, many successful entrepreneurs tend to share a few key characteristics. These traits are often what help an entrepreneur become successful and continue to grow their business. If you have some of these characteristics, you may have what it takes to be an entrepreneur.
Entrepreneurs are innovative
Often, the terms "entrepreneur" and "innovator" are used interchangeably. The definition of "innovative" is "original and creative thinking," and an innovator is someone who "introduces new ideas." Entrepreneurs are innovative because they apply creative thinking to an issue or problem and create a new product or service as a solution to the problem. 
Altimese Nichole, Founder of NicholeNicole, has some helpful advice for aspiring entrepreneurs: "Many are excited to become an entrepreneur but get discouraged when reality hits. Entrepreneurship means staying committed to your goals beyond your feelings of excitement. Stay the course, and keep your 'why' in mind."
Entrepreneurs are problem solvers and change-makers
Entrepreneurs focus on finding solutions to address an issue or problem. This means they often have to think critically to come up with a unique solution. They focus on how they can make an issue better or improve on an existing solution to a problem. 
Often, entrepreneurs act as change-makers, advocating for a shift in the way things are normally done. In fact, many entrepreneurs come up with business ideas by engaging with their community and considering the gaps that can be filled with a good solution. 
The founder and CEO of NeuroFlow notes: "Entrepreneurship means being the one who is willing to take a leap, work hard enough to sacrifice everything else around you, all in the name of solving problems because no one else is capable or possesses the desire."
Entrepreneurs aren't afraid of failure
"Entrepreneurs make their way down a never-ending list of problems with grit, passion, and energy."
Because entrepreneurship is a risk, and there are no guarantees you will be successful, entrepreneurs need to be resilient and unwilling to give up. Many successful entrepreneurs had to fail and persevere through challenges to get to where they are. Entrepreneurs have to be open to failure, as many small businesses don't survive their first year of operation, and use failure as an opportunity to grow. 
Jolijt Tamanaha, Director of Marketing and Finance of Fresh Prints, says: "Entrepreneurs make their way down a never-ending list of problems with grit, passion, and energy. While intense, being an entrepreneur means you get to live life learning an incredible amount and maximize your impact on the world because you have to tackle the hardest problems."
Entrepreneurs adapt and evolve
To be successful, entrepreneurs must be able to evolve and adapt to changes in the marketplace. This is an important characteristic, as it helps entrepreneurs respond well to the changing needs of the consumer, and tweak their business model to meet the demands of the market. They have to be good at pivoting to respond to changes in the marketplace and be open to evolving their business in order to expand and increase their impact.
So, for example, an entrepreneur may adjust an existing product to make it more environmentally friendly or to have more features than a competing product. Or they may change their existing service to respond better to the needs of their audience or to expand their audience to include more consumers. 
According to James Sandoval, Founder and CEO of Measure Match: "Being an entrepreneur means diving headlong into a likely very risky venture of your own making, working long hours, often alone, to carve out a path to success and never, ever giving up."
How does entrepreneurship impact the economy?
Entrepreneurship has an important impact on the economy in several ways, including:
Entrepreneurship increases employment
By going into business for themselves, entrepreneurs create their own employment. If they are successful, they may also employ others and help to increase employment related to their operations, such as outsourcing to a supplier for their business. 
Entrepreneurship opens up new markets and stimulates the economy
Entrepreneurs create new businesses all the time by inventing new goods and services or improving on existing ones. This creates a ripple effect that helps to open up new markets in the economy. By creating new products and services regularly, entrepreneurs help to keep the economy healthy and innovative. Given that capitalism is a profit-and-loss system, entrepreneurs help to uncover what consumers want and determine what drives profit.
For example, in the 1990s, new information technology companies emerged in India, and businesses associated with other industries, like hardware providers and customer service centres, developed to support this new market.
Entrepreneurship helps to increase national income
Another way entrepreneurship affects the economy is by increasing the gross national income (GNI), which is the total amount of money earned by a nation's people and businesses. With increased employment, people in the economy earn more and contribute more in taxes. This then helps the government spend more on public projects and services. Entrepreneurship is a critical driver in creating a healthy economy, and an essential aspect of many economies around the world.
Entrepreneurship furthers social change in society
Entrepreneurs break with tradition and the status quo to push the economy in new and exciting directions. Often, entrepreneurs are responsible for the development of the latest, greatest products, rendering old methods and systems obsolete. They can also bring more awareness to a gap in social services or goods and identify weak spots in society.
Entrepreneurship creates a healthy, balanced economy
Left unregulated, research has shown that entrepreneurship can lead to unfair market practices and corruption, as well as income inequality. This is why government often helps to develop the entrepreneurial ecosystems, supporting entrepreneurs through programs and venture capitalism to maintain a healthy, balanced economy. The government also supports business incubators, education programs for entrepreneurs, and other resources to encourage entrepreneurship.
Who are some noteworthy Canadian entrepreneurs?
Canada has our fair share of successful entrepreneurs across many industries. Their success stories are all different and not without challenges, but there is much inspiration and knowledge to be gained from reading more about their journey. Get inspired with this list of some noteworthy Canadian entrepreneurs who have done impressive things:
Harrison and Wallace McCain
Perhaps two of the most famous Canadian entrepreneurs are brothers, Harrison and Wallace McCain. The McCain brothers are known as the co-founders of the frozen foods empire McCain Foods Limited, launched in 1956. The business grew out of their father's seed potato farm, cutting up potatoes and freezing them as fries. Their business venture quickly became the world's largest supplier of frozen foods, opening international factories and providing more than a third of the international market for French fries.
Shahrzad Rafati
Founder of BroadbandTV, the third largest video property in the world, Shahrzad Rafati is an entrepreneurial success. Her Vancouver-based digital entertainment company follows close behind Google and Facebook, providing high-quality online content nationally and internationally. Rafati dove into entrepreneurship as a recent graduate, recognizing the potential of online video content and the need for a business model that benefits content creators as well as consumers. She launched BroadbandTV and is now focused on cultivating a new generation of content creators in Canada and beyond.
Xue Wu
Dr. Xue Wu is the co-founder and CEO of Geneseeq Canada, a leader in biomedical research. Her company uses comprehensive genomic testing to develop better cancer care and therapies for patients. With its headquarters in China and Toronto, Geneseeq encourages collaborations with pharmaceutical and biotech companies and cancer research facilities to improve early cancer detection and monitoring. This business venture is a great example of providing an essential service that will create positive change and have a lasting impact on society.
Jenny Bird
Canadian entrepreneur Jenny Bird started her jewellery company in 2008 and turned it into a worldwide brand. Creating high quality-jewellery at a reasonable price point, Jenny Bird is now sold at over 600 retailers around the world, with showrooms in major cities, and strong brand recognition.
John Molson
Best known as the founder of Molson Brewery, John Molson started his entrepreneurship journey at just 18-years-old with funding from his grandmother. Molson quickly expanded his company and constructed Lower Canada's first distillery, establishing Molson as the fifth-largest brewery in the world. He also used his entrepreneurial success to support social causes like Montreal's art sector, the construction of Canada's first railway, and Montreal's premier public healthcare facility.
Tonia Jahshan
Tonia Jahshan is an entrepreneur who founded Sipology by Steeped Tea. Inspired by a great cup of Cream of Earl Grey tea, she decided to start a company that brings high-quality tea with bold flavours to consumers. After a successful appearance on "Dragons' Den," Jahshan received investment in her company and grew Sipology into a successful business in Canada and the U.S.
Jodie Morgan
This Canadian entrepreneur identified Canada as having a plastic problem and created a unique solution. As the CEO of GreenMantra, her company turns plastics into synthetic waxes and other chemicals that can be reused in other industries. With the goal of creating a more circular economy that upcycles and reuses, rather than dispose, Jodie Morgan has emerged as a leader in the renewable resources industry, making a strong environmental and social impact through entrepreneurship.
What resources do entrepreneurs need?
The road to entrepreneurship is not a straight line, and many successful entrepreneurs experience detours and roadblocks before finding their footing. Unlike a more traditional profession, becoming an entrepreneur often involves a lot of trial and error, and a healthy dash of perseverance. 
One of the great things about being an entrepreneur is how accessible it is as a career, regardless of your background or education level. However, there are several resources that will increase your chances of success as an entrepreneur.
Financial stability
Though it is definitely possible for you to be an entrepreneur without being financially flush, having some financing set aside will make your entrepreneurship journey easier. Aim to put together an adequate cash supply to cover your business expenses for at least the first year. 
Being financially stable before you jump into entrepreneurship will give you more wiggle room to build your business over a longer period. It will also free you up to focus on seeking ongoing funding and creating a sustainable business model, rather than being forced to make some quick cash however possible.
Another aspect of being financially stable is having no debt and no overhead to start. If you do have debt, try to minimize it or pay it down as much as possible before you start your business. In the beginning, employ yourself to keep your overhead costs down, and as your business expands, only hire employees when your business is financially viable.
Cultivate a diverse skillset
As an entrepreneur, you have to wear multiple hats and tap into different skills to build your business. Make a list of your current skills and identify any gaps in your skill set. Then, think about how you can learn more about the skills you might need to develop further. That way, you'll feel confident in your skill set as an entrepreneur.
For example, maybe you have strong sales skills but lack bookkeeping or finance-related skills. Or perhaps you have strong interpersonal skills, but you struggle with using social media to promote your business. 
Cultivating a diverse set of skills means you can tap into them when you need them and hit the ground running. It will also make you more self-reliant and more of a problem solver in the day-to-day operations of your business.
Do your research
Before you leap into entrepreneurship, take some time to research existing small businesses and entrepreneurship. Read business books and blogs about entrepreneurship, listen to podcasts, and follow entrepreneurs on social media. You may want to focus your research on a specific industry or area, especially if you're thinking about creating goods or services for that industry. Or if you want to create a woman-led business, read about other inspiring women entrepreneurs. Take a look at what's already available and the competitors in that industry. 
Consume as much information as you can about entrepreneurship, so you are aware of what works and what doesn't. As an aspiring entrepreneur, information is power, and there are many free resources you can use to start your business. 
Identify a problem you're passionate about
As an aspiring entrepreneur, you probably have a lot of good ideas, but you won't be able to make all of them a reality. Rather than chase every problem you see, focus on the problem you are most passionate about solving, the problem that nags at you and keeps you up at night. Your passion and dedication to solving that problem are what will push you as an entrepreneur and give you the drive to be successful. 
Ask yourself what problem you are the most passionate about solving, and why. The "why" will keep you motivated as you embark on your entrepreneurship journey and remind you of the passion you have for solving the problem.
For example, you may be inspired to solve the problem of food scarcity in your community because you grew up in a household where there was limited access to fresh produce. 
Create a unique solution
Successful entrepreneurs often respond to a problem with a specific solution that is unique and impactful. Think about how you can add value to the problem and contribute something new to the marketplace. Be as specific as you can and consider if your solution differs from what's already available or offers consumers something new.
For example, maybe you realize that there is a lack of access to fresh produce in your community, and come up with the unique solution of a mobile grocery store that provides fresh produce on a weekly basis. 
Build community with other entrepreneurs
Being an entrepreneur can be a difficult and rewarding career, especially during the early years of your business. Reach out to other entrepreneurs in your community and connect with them to build your network. Ask them questions about how they handle the challenges of entrepreneurship, from incorporating to merchandising to promoting products on social media.
Think about ways that you can collaborate with other entrepreneurs and boost each other up, such as working on a product together or collaborating on a community event. Building strong community ties with other entrepreneurs will help you grow your business in a sustainable way and stay connected to the needs of those around you. 
Business ideas for entrepreneurs
There are endless opportunities for entrepreneurs when it comes to starting your own business. In case you're feeling overwhelmed, here are just a few great business ideas to get you started.
Start an online store
There are so many benefits to opening an online store. The first is the money you'll save by not having a brick-and-mortar location. There are a few different ways that you can also avoid having to invest and manage inventory and potentially lose money if your products don't sell as well as expected. 
If you're a crafty entrepreneur, you could sell handmade items that are made to order. Another idea is to offer print on demand products through a third-party company. This allows you to create, customize, and sell your own designs without having to worry about order fulfillment or shipping. 
If you're not interested in being a part of the creative process and would prefer to sell items that someone else has designed, dropshipping could be the perfect fit for you. When you open a dropshipping business, you avoid having to spend any money upfront on inventory, as your supplier fulfils all of your orders.
Open an in-person service-based business
If you're trained in some sort of service that requires a physical location, why not open your first brick-and-mortar location? Some examples of service-based businesses include hairdressers, pet groomers, dry cleaning, clothing alterations, and so many more. If you don't have any training in a specific niche, you may want to pursue a degree for entrepreneurs.
Start freelancing from home
One of the most accessible and inexpensive ways to start your own business is to become a freelancer who works from home. There are so many options for starting your own remote business, like teaching online, creating passive income products, or working as a virtual assistant, to name a few.
Top resources for entrepreneurs
Now that you have all kinds of information on what it means to be an entrepreneur and how you can start your own business, we'll introduce you to a few helpful resources for getting started.
Financial resources 
This program is a partnership between the Government of Canada, Black-led business organizations, and financial institutions. It's designed to help Black Canadian business owners build and grow their businesses successfully.
The Government of Canada provides loans for small businesses to help finance businesses with gross annual revenues of up to $10 million. 
The Business Development Bank of Canada (BDC) offers loans of up to $100 thousand for Canadian businesses that are generating revenue and have been operating for at least 24 months.
Educational resources 
Besides their small business loans, the Business Development Bank of Canada has tons of free online tools that can help you learn how to start a business, handle finances, and hire employees, to name just a few of the topics they cover.
Canadian Innovation Centre Entrepreneur Training
The Canadian Innovation Centre offers a number of practical education and training programs for entrepreneurs in the form of videos, presentations, and other resources.
While you're educating yourself on entrepreneurship, why not inspire the next generation of Canadian entrepreneurs by encouraging your kids to start their own business?
Make your dreams of entrepreneurship a reality 
In this comprehensive guide to business and entrepreneurship, we've covered pretty much everything you could ever want to know about being an entrepreneur, including the successes, challenges, skills, and steps you can take to become an entrepreneur. Hopefully, you're feeling well-versed in what it takes to be an entrepreneur and inspired to pursue this interesting career path. 
Ready to start your business? Ownr has helped over 100,000 entrepreneurs hit the ground running quickly—and affordably. If you have questions about how to register or incorporate your business, email us at [email protected].
Share This Story, Choose Your Platform!