Your Guide to Choosing the Perfect POS System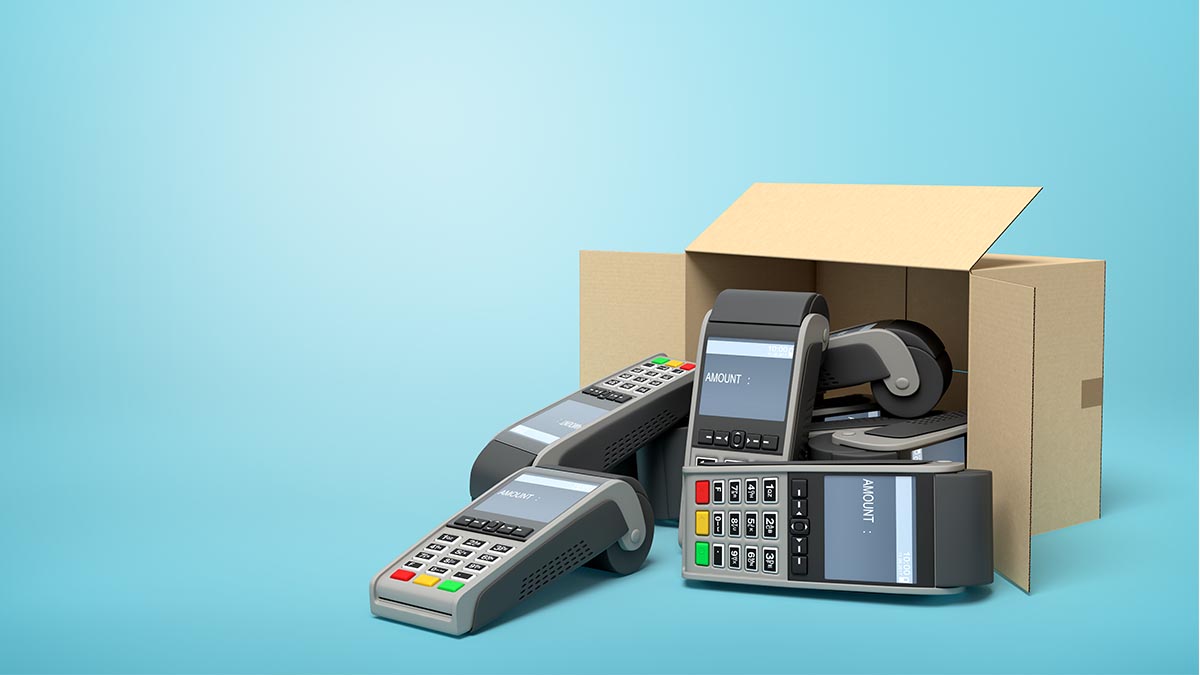 No matter what kind of business you're in, it's very important that you make receiving payments a smooth, efficient, and easy process. After all, what good is being in business if you can't get paid? This is why your choice of point of sale system, or POS, is something you should do once you've armed yourself with the right information.
Your POS system is something both you and your customers will be interacting with on a daily basis. Choosing the right point of sale can help the day to day flow of your business, and maybe even your bottom line. Conversely, if you choose the wrong POS, you might get stuck with a fee structure that is too expensive, a terminal that doesn't have all the features you require, or a system that's confusing and difficult to learn.
What is a POS system, and why do I need one?
When you hear the term "point of sale system," you might think of a cash register and receipt printer. While these can make up part of a POS system, nowadays there are many other tasks that point of sale systems must be able to handle. There are still the physical hardware components, such as payment terminals, card readers, and receipt printers, but there is also a world of software options to choose from that will greatly impact what you can do with your point of sale system.
As more and more business is conducted at least partially online, a great POS system needs to offer integration between online and in-person or brick-and-mortar business. This integration should be smooth and simple for the customer. It should also offer you data insights and reports, which can be very valuable in helping you make business decisions. Modern point of sale systems also manage inventory, empower employees with product information on the go, and can even serve as customer relationship management (CRM) software and employee management software as well.
As you can see, POS systems today are much more than just payment processing terminals. They are essential tools that impact many aspects of a business, including the customer experience from start to finish. They also allow entrepreneurs to easily collect data that may have been time-consuming to gather otherwise. This includes identifying the products and services that are often purchased together to make better suggestions when upselling, improving your average order value.
What features can POS systems offer?
Now that you have an idea of the wide range of functions that a point of sale system can offer, let's get into some of the specific features you can look for when shopping for a POS and why they may be useful for your business. There are many options to choose from, and they each have a different mix of features and benefits.
Different businesses have different needs, of course, so the perfect point of sale choice for a food truck business might not be the best choice for a personal trainer or a plant store. The unique requirements of your business will inform which POS system is the best for you. Once you have an idea of the different features available across the different point of sale systems, you'll be able to create your checklist of must-have features to look for when choosing your own.
5 ways a POS can help improve your business
At the most basic level, you need some sort of POS terminal for your business so that you can collect payment in exchange for your product or service. Without getting paid, there's no point being in business. However, for most entrepreneurs, that isn't going to cut it. A few other areas where a POS can help you are:
1. Improving your customer experience
Chances are, your customer interacts with your business in more than one channel. This is why you may have heard of omnichannel customer journeys. Every interaction or touchpoint your customer has with your business, from when they first hear about it to when they open your packaging, is a part of their journey as your customer. The more cohesive and easy to navigate this journey is, the better your customer's overall experience and impression of your business—and the more they're likely to spend. A POS system can help you optimize your customer's omnichannel journey by integrating their desktop, mobile, and in-person experiences. Some even allow you to easily create customer loyalty or referral programs.
For example, when they come to your shop, you can quickly pull up their online purchase history, including things they may have abandoned in their cart. This way you can make informed recommendations when they are in the store.
2. Managing your inventory
When you are just starting, inventory management may be relatively straightforward. However, as your business grows, it may become harder and harder to keep track of what's in stock. This is especially true if you sell a product through various channels. Perhaps you have an online store, a brick-and-mortar store, and a trade show coming up where you'll be selling your product. It can be easy to lose track of how your different sales channels are depleting your inventories. A great POS system with inventory management capabilities can help you avoid a situation in which, for example, a customer places an order online only to receive an email from your company, letting them know that the item they ordered is actually out of stock. It can also help you see if you've accumulated too much deadstock you need to deal with.
3. Conducting transactions on the go
Depending on the nature of your business, being able to take payments anywhere can be a major convenience for both you and your customers. For example, say you have a landscaping business. Your clients will likely prefer being able to pay you using their credit card in person rather than digging out their cheque book, and you'll be glad to be able to adjust their order on the fly from your POS app if they choose to add items to their landscaping project. Quickly generating orders and being able to accept payment wherever you conduct business is a huge plus.
4. Improve product knowledge
Sure, you can sell your product or service to anyone because you know it like the back of your hand. But what about your employees? If you have staff, your POS system can offer them detailed product or service information on demand. For example, if a customer comes into your establishment and has a question that your employee doesn't have the answer to off the top of their head, they'll be able to pull up the product info on the POS machine or app. This can be the difference between making a sale or having the customer wander out of the store and visit a competitor.
If you are a wholesaler who sells B2B, setting up things like MOQs can also empower your salespeople to have all the information they need when interacting with clients.
5. Provide you with actionable reporting
Information is power. Point of sale systems can generate reports on simple things like the number of sales in a day, to more advanced data such as accounting reports, labour reports for employees, orders by time of day, and sales trends. These reports can help you make better decisions about aspects of your business such as what to stock and when and how many sales staff you should have on any given day or at a given time of year, all of which can help you create an informed sales forecast and improve your bottom line.
Which POS is right for your business?
While the right choice of POS system for your business will depend on your industry and business type, there is a good chance that one of the POS in this list will have all the features you need at the right price point. At the end of the list, we'll make some industry-specific recommendations, but you know your business best and may find that one of the other point of sale systems is a better fit for your needs.
With hundreds of point of sale systems and POS machines to choose from, it can be overwhelming to begin your research.
Popular POS systems
With over 3.5 billion transactions every year, Moneris is one of Canada's leading payment providers. Moneris offers various scalable options, secure debit and credit card transactions, and 24/7 support. For online businesses, Moneris Online allows you to accept payments online that are secure with fraud prevention tools. Plus, their team is available to get you up and running quickly and easily.
This is a highly-rated popular choice geared towards small to medium-sized businesses. Unlike more one-size-fits-all POS systems, Lightspeed has three variants for different business types: Lightspeed Retail POS, Lightspeed Restaurant POS, and Lightspeed Golf POS. While some reviewers note that the user interface is a bit messy, it has the benefit of being fully mobile. This means you can check the system on the go, and it works great on iPads and iPhones. Plans start at $89 CAD/month.
Vend is an entirely cloud-based point of sale system, meaning that you can access the platform from any device with an internet connection. This makes Vend a great option for small businesses with limited resources, as they can access the system from a device they already own. Vend does not come with hardware and is compatible with a range of third-party hardware options. Pricing starts at $119 CAD/month.
As you might guess from the name, this POS system is designed with foodservice businesses in mind. Anyone who has worked in a restaurant knows the difference an excellent POS can make to helping the business run smoothly. Touchbistro has a pleasant interface and can be used to manage inventory, orders, modifications, tables, reservations, online ordering, catering, and delivery. It can be used with a range of payment processors and third-party POS terminals and is competitively priced starting at $69 CAD/month.
If you have a small business and are looking for a well-rounded POS system at an affordable price, Epos Now is a good option. It's compatible with both Mac and PC, as well as a range of hardware providers. This is a plus because it allows you to find the best deal on hardware rather than having to buy a proprietary terminal. Epos Now comes with an excellent inventory management system that can alert you when your stock is getting low. It features a customer management database that can easily be integrated with Mailchimp to maximize your email marketing efforts to your target market. You will also find employee management tools, reporting tools, and simple integration with widely used third-party apps such as QuickBooks. Plans begin at $55 CAD/month.
Even if you don't recognize the names on this list so far, you've most likely heard of Square. That's because it's a great, easy to use entry-level POS that can be scaled up to suit the needs of companies as they grow. Square is well known for its small, portable, and easy to use POS terminal, which can be synced to your mobile device to create invoices and take payments on the go. There is also a terminal you can purchase, which is ideal for businesses with a fixed location. It has a very clean and pleasant interface, can generate useful reports, and there are no monthly fees. Instead, a small fee is charged on each transaction. This makes it ideal if your business is a side hustle or seasonal since you wouldn't want to be paying for a service you don't use for months at a time.
If you're comfortable with new technology and can quickly learn your way around a program, Erply is a point of sale system worth your consideration. While there is a bit of a learning curve, that's because Erply is incredibly customizable and feature-packed compared to other POS systems. It's cloud-based, and it can be used on both Apple and PC devices. It's also compatible with a range of payment systems and POS terminals. Erply starts at $52 CAD/month.
Revel is a cloud-based iPad POS system that's built with food service in mind. Interestingly, Revel has unique POS systems for restaurants, coffee shops, quick service, and pizza shops. It can also be used for regular retail operations, and customers that have mixed food service/retail operations enjoy the fact that it caters well to both streams of their business. Plans begin at $132 CAD/month.
POS Nation is a POS system compatible with a range of payment systems and POS hardware. It's also highly customizable. Part of what makes POS Nation unique is that they personalize the system for each new customer based on the special requirements of their business. The system can be customized for retail, restaurant, grocery, salon and spa, and more. Plans normally begin at $150 CAD/month, but keep an eye out for discounts.
Another POS system worth mentioning is the Shopify POS. Many e-commerce businesses use the popular Shopify website builder and ecommerce platform, so incorporating Shopify POS into your business operations if you already use their platform is an easy process. It has advanced inventory features, unified reporting with your online business, and custom staff permissions that make managing teams a breeze. Shopify POS Lite is free with an existing Shopify plan, while the full-featured version is $118 CAD/month. There are a few hardware options that can be purchased through Shopify, depending on the needs of your business.
What is the best POS for each industry?
As you're reading through this list, you may be thinking about the unique requirements of your specific business and wondering if there are industry-specific POS systems you should be researching. While there are some point of sale systems geared to specific industries, including many of those mentioned above, most systems are created for a wide range of business types and have industry-specific add-ons or modifications that can be made when you sign up.
When choosing a POS system, it's best to think about which features would be most valuable for you and for your customers' experience and to look for a system that offers those features. It might not be geared towards your specific business type, but that doesn't mean it won't be a great fit for your company. If you can speak to other entrepreneurs in your niche market and find out what they use, you may be able to gain some valuable real-world information from someone using the system in the same way you would.
Some highly reviewed suggestions for different industry segments include:
Recommended point of sale system for retail: Moneris tops several reviewers' lists of POS systems for retail.
Recommended point of sale system for ecommerce: Ecommerce-first systems such as Shopify are a great choice for businesses that operate primarily online.
Recommended point of sale system for restaurants: While many point of sale systems are designed for restaurant use, Touchbistro tops the list with great features at an affordable price.
Recommended point of sale system for contractors: Contractors are always on the go and require maximum portability. Square is a perfect choice since payments can be taken on a very small, pocket-friendly device that syncs to your mobile and works offline if needed.
What should I keep in mind when choosing a POS?
Apart from the industry-specific features we've looked at so far, there are a few major considerations you should keep in mind as you shop for a POS for your business. One of these is cost: while you can easily compare the monthly fees for each point of sale system, look out for additional fees that can add up and impact your choice.
For example, some companies charge a set-up fee to get started. This can be hundreds of dollars, which is a significant expense for a small business. Another way unexpected fees can accumulate is when you need extra features or integrations. Make sure you research every additional integration you plan to add, such as shipping software, and check if it will add to the cost.
Hardware can also be a major hidden expense. You'll ideally want an option where you can shop around and choose your own hardware, or where you pay for the hardware upfront so that it's only a one time expense. Some POS systems offer "free" hardware, but there are actually leasing fees associated with it that can add up.
Another important consideration is the availability of a free trial. Choosing a POS system is a major decision, and you don't want to get stuck with something you haven't had a chance to test only to find out that it's not the best fit for your business.
Finally, you'll want to ensure that whatever you choose, you remain Payment Card Industry Data Security Standard (PCI) compliant and that you validate this compliance annually. Many POS providers include this compliance and validation in their plans, but you will want to make sure this is the case before signing on. If they do not, You may need to complete an annual PCI self-assessment questionnaire, and possibly undertake a quarterly network vulnerability scan by a certified scanning company to ensure you are compliant. It is much easier to work with a POS system provider that does this for you.
While choosing a point of sale system may require some research and testing, with a little time and patience you'll find the perfect fit for your business. It's worth investing the time for such a key part of your business, plus you might find one that makes your day-to-day operations even easier.
Ready to start your business? Ownr has helped over 100,000 entrepreneurs hit the ground running quickly—and affordably. If you have questions about how to register or incorporate your business, email us at [email protected].
Share This Story, Choose Your Platform!